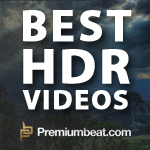 Video Inspiration! 11 Outstanding HDR Videos
We've rounded the very best HDR videos – showcasing unique examples of this visual effect.
HDR video is gaining in popularity, for it's unique look and image detail.  HDR, or high dynamic range, is a type of imaging that allows for a wide range between the lightest and darkest areas of an image.  Traditional HDR photography is done by taking multiple pictures at different exposure levels and then combining them.  Many of the HDR video effects seen below were created using Photomatrix in post production – and then brought into an editing app like After Effects, Premiere or Avid.  Check out these impressive HDR videos and let us know what you think in the comments!
HDR SKIES from Tanguy Louvigny
SANATORIUM from Hermann Schulz
ChronoCon "FIRST LIGHT" HDR from Pentalunex Team
THE CHAPEL (HDR TIMELAPSE) from Patryk Kizny
ASLYUM from Drew Geraci
LIFE IN HDR from Sam Sprynczynatyk
HDR TIMELAPSE IN VIENNA from Rafael Asquith
DISTRICT NIGHTS from Drew Geraci
DREAMS COME TRUE from Damián Perea on Vimeo.
CATHEDRAL from Edo – Timelapse.it
PLACES AROUND DUBLIN from Mike Kacperski