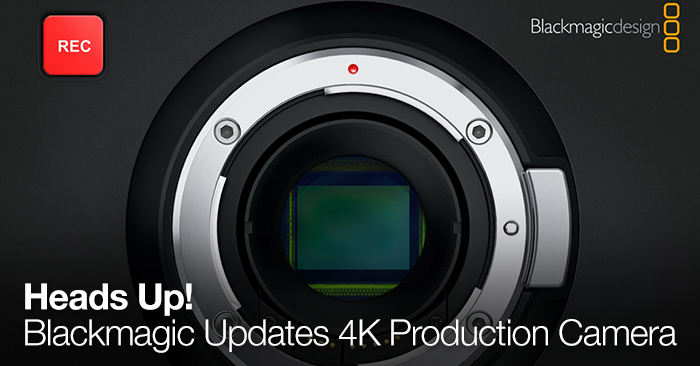 Heads Up! Blackmagic Updates 4K Production Camera
Blackmagic's latest firmware adds some much needed features to the 4K Production Camera.
Although their specs are incredibly impressive, Blackmagic is notoriously known for their firmware. From the 'black sun debacle' to the inability to delete clips in-camera, the firmware leaves a lot to be desired. Blackmagic has known about these problems for a while now and has, over the last few months, released a few firmware updates that give their cameras better functionality.
In late June, Blackmagic released a huge update allowing for 4K users to record RAW DNG files, but a recent update to the 4K production camera gives it some more useful features. The new features include:
Updated sensor calibration processing
On-Screen Heads-Up Display
Audio Meters
Time Remaining Indicator
Histogram
The new features were announced in a press release along with a video tour featuring Blackmagic Design's CEO Grant Petty. Let's take a look at a few of the newest features in the heads up display…
Blackmagic Heads-Up Display
The new Production Camera heads-up display (HUD) looks pretty awesome. By simply flicking your finger up from the bottom of the screen you can access the new heads-up display, very similar to the way you open the camera on an iPhone. The HUD has three new features: a histogram, time remaining indicator, and audio meters.
As I'm sure you are already well aware of, the histogram is a very important feature to be included in the update. Histograms give visual representation of the light and dark areas of the video frame. They make it easy to see if your white or black points are clipping in your scene. If you want to read more about histograms I highly recommend checking our our recent post on 'How to Read Histograms'.
The new 'Time Remaining Indicator' will tell you how much time of recording you have left on your card. Now of course this is exciting news, having the ability to see how much time is left on your card is crucial, but let's think about this for a second, there wasn't a time remaining indicator before this?! That seems extremely necessary for a modern day camera. While I'm super excited to see the new feature, it seems like this shouldn't have taken so long to put this update on the camera.
The heads-up display also features new audio meters that will allow users to monitor their audio levels while recording. The meters feature peaking indicators plus a very entertaining peaking dot-falling animation. The new waveforms should make monitoring audio much easier on the 4K camera.
Availability
All of these new features are available for download on Blackmagic's website today. All you need is a Mac or PC with the accompanying USB cables.
What do you think of the Blackmagic Prouction Camera Update? What features do you want Blackmagic to include in the next update? Share in the comments below.