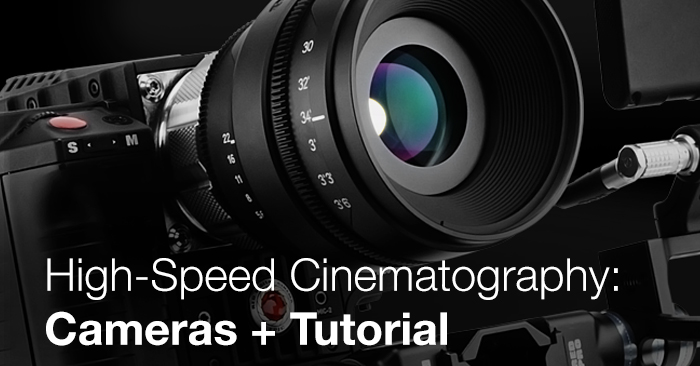 High-Speed Cinematography: Cameras + Tutorial
Want to shoot slow motion? The following video tutorial will demonstrate the latest professional practices to achieve your own slow motion shots.
We view films at 24 frames per second. When played back properly, it's a standardized approach that provides an "artsy" look to cinematography. High-speed cinematography involves shooting at a higher frame rate than 24 fps, giving yet a more surreal look. You may choose to shoot anywhere from 60 – 18,000 fps, depending on your resolution and budget.
High-Speed Cameras
First, let's take a look at 5 professional high speed cameras for the aspiring indie filmmakers. Although some cameras shoot in 60 fps, for a 'true' smooth slow motion effect, pros would tell you to shoot upwards of 100 fps+.
The new Edgertronic is a huge breakthrough concerning high-speed cinematography for the indie-filmmaker, starting at only $5,495. It's a specialty super slow-motion camera packing frame rates up to 17,791 with resolutions up to 1280 x 1024!
The Edgertronic was developed by MIT-trained engineers looking to make high-budget camera technology attainable for the masses. They originally started a Kickstarter page to launch the product in 2013. Check out the Edgertronic at 500 fps:
2. RED Epic-X
At $19,000, you could buy a new car for the price of the Epic-X. All jokes aside, this is a serious camera that crushes the JVC in comparison. With glorious 5k and 4k capabilities, along with the Mysterium-X 5k sensor, your image quality will be top-notch.
The Epic shoots the following rates:
1-120 fps 5K and 4.5K

1-150 fps 4K

1-200 fps 3K

1-300 fps 2K
Additionally, flexibility can be nice as it will shoot standard frame rates: 23.98 through 59.94 fps for all resolutions. The Epic is the only camera available to the market that is capable of a 120 frame rate at a 5k resolution. Check out the Red Epic at 300 fps:
The Sony NEX-FS700R starts out at the modest price of $7,699. Quite a bang for your buck considering the specs: up to 250 fps at 1080 x 1920. By no means a one-trick-pony, the price is a good deal for professional looking slow-mo. With some cropping and a reduced resolution, higher frame rates of 400/800 and 960 fps are also attainable with this camera. Check out the Sony NEX-FS700R at 240 fps:
4. Sony PMW-F55
Employing the CineAlta system, the Sony PMW-F55 isn't a cheap buy at $28,990. Many will argue that it rivals the Arri Alexa, except for much less cash. In fact, it has more capabilities in the slow-motion department.
The F55 captures a huge 180 fps in 1080p internally, boasting a super clean image. In 4K it is a respectable 60fps internally, with 240 fps 16 bit raw at 2K with no image cropping attainable through the optional off-board recorder. Check out the Sony PMW-F55 at 240 fps:
5. JVC GC-PX100
The JVC GC-PX100 is the most affordable camera with great fps capabilities coming in at $999.95. A time control button lets you choose shooting speeds between 1/80th and 500 frames per second, or from time lapse to slow motion. The downside to shooting at 100 to 250 frames per second concerns the resolution dropping to 640 x 360, and to 320 x 176 at 400 or 500 frames per second.
The price is definitely what makes the JVC GC-PX100 stand out. Check out the JVC GC-PX100 at 600 fps:
High-Speed Cinematography Tutorial
When slowing down playback at 24 fps your video editing app will fill the gaps with frames, creating a slow motion effect. There are further ways to enhance this effect in post using After Effects.
The video covers:
Shooting slow-mo correctly
Frame rates and over-cranking
Sequence rates with Adobe Premiere Pro
Advanced frame blending techniques with Adobe After Effects

This video tutorial was created by Rich Harrington for Adorama Photography.