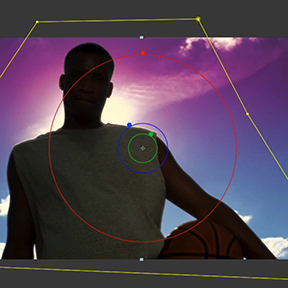 Creating a Hollywood Blockbuster Look in After Effects
Give your video footage a dynamic look in After Effects with this Michael Bay style treatment.
With a few simple tricks in Adobe After Effects you can transform a washed out background into a vibrant, stylized scene. The following tutorial by Kevin P McAuliffe for Creative Cow shows you how to create what he calls the "Michael Bay" look. This saturated, contrasting color treatment is characteristic of many big budget Hollywood blockbuster films.
The tutorial starts with footage of a silhouetted basketball player against a desaturated sky.  By applying a luma key and garbage matte to separate the foreground player form the background, you can boost the saturation of the sky and add vibrant colors to make it "pop". This After Effects color treatment is great when you have an image with a highly contrasted foreground and background or silhouette.
For a similar tutorial on getting a Hollywood style color treatment in DaVinci Resolve see our blog post here.
Thanks for sharing, Kevin!