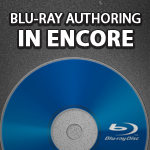 How to Create Blu-Rays with Adobe Premiere Pro & Encore
In this post we share how to create Blu-Ray discs using Adobe's Premiere Pro video editing and Encore DVD authoring applications!
Preserve the high-definition quality of your project through delivery by burning your video project on Blu-Ray.  The videos below show you how to create Blu-Rays with Adobe Encore (and Premiere Pro for editing and exporting your video files).
In the following video tutorial, Dave Helmly Sr. Technical Sales Manager for Adobe's pro video product line, goes over his workflow for using the Premiere Pro Creative Cloud and Encore CS6 to burn Bluray discs.  In addition, Dave also shares a slick way to create files with poster frames and chapter markers so you can have interactive playback on a variety of mobile devices including iPad and iPhone. This 20 minute video is an essential crash course for anyone looking to understand the fundamentals of DVD authoring with Encore:
In a recent webinar, post production pro and Premiumbeat friend, Larry Jordan, demonstrated everything you need to know about creating Blu-Ray DVDs using three Adobe applications:
Photoshop for creating DVD Menus
Premiere Pro for editing and exporting your HD video file
Encore for testing and authoring your Blu-Ray disc
The following video tutorial is a short excerpt of the full webinar and shows you how to create your menu buttons in Photoshop and import this file into Encore.  If you're interested in extensive training on how to create Blu-Rays in Encore you can purchase the full one-hour webinar over on Larry's site for $24.99.