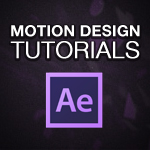 Creating Motion Infographics in Adobe After Effects
Want to create snappy motion infographics?  Check out this in-depth video tutorial series on creating engaging infographics using After Effects.
If you're looking to explain a concept, product or social initiative, motion infographics are effective at engaging your audience and delivering your message.  For the newbie video editor and motion designer however, the task of conceptualizing and creating motion infographics in After Effects can be a daunting task.
Portland based animator and designer Michael Jones recently created a sharp motion infographic, and then broke down the process in a series of in-depth video tutorials.  He demonstrates how he created specific shots, by explaining the step by step process in After Effects (see the video tutorials below).  The final video has a faith-based message, but the techniques used can obviously be applied to any project where you need to outline information (corporate, commercial, churches, organizations, etc).
First, let's take a look at the final video:
This is a great series of case studies and tutorials for anyone interested in creating professional infographics in After Effects.  Thanks for sharing, Michael!
Learn how to visualize and setup this type of After Effects infographic project – overview and preproduction:
An in-depth look at text animation and creating a text reveal effect:
Animate a floating box with with masks in After Effects:
Recreate the cool shattered lightbulb effect: