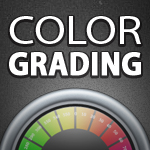 Inspiration: Narrative Color Palettes with Spotmaps
See a film's entire color palette in one image with Spotmaps – a unique way to think about color grading choices in your own work.
Successful color grading and color consistency is essential in setting the mood in a film or image. Dark muted tones may lend extra drama to a scene, while bright saturated colors may give off feelings of happiness, joy and youth.
Spotmaps is a new online project by Andy Willis that showcases the narrative color palette of well-known films and combines them into one image….and the results are pretty fascinating.
Each frame of a film is analyzed and combined into a solid color representing one second of the film. The process repeats for the duration of the film, with the composited color of each second laid out in rows. The overall effect is that you can quickly see an entire film's color palette in one quick glance.
This project puts a spotlight on the power of color to convey a feeling or mood. Take the example below of Moonrise Kingdom. You'll see that Wes Anderson, who's artistic style is known for sepia tones and muted colors, uses this technique consistently throughout the entire film. It's what gives his films their trademark look.
Spotmaps are great for thinking about how to successfully use color palettes in your own creative projects.
Click here to see more Spotmaps. Click images below for larger view:
| | |
| --- | --- |
| Moonrise Kingdom: | Tron Legacy: |
| | |