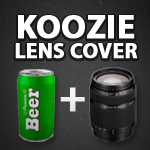 DSLR & Photography Tip: Koozie Lens Protectors
Here's a quick "why didn't I think of that!" tip for DSLR video shooters and still photographers: a beer koozie as a lens cover.
Premiumbeat blog favorites Apartment Therapy & DIYPhotography.net recently shared a homemade solution for transporting your expensive DSLR lenses that was certainly worth sharing.  Inexpensive drink  koozies make for a great way to keep your lenses protected and secure.  Especially for photographers and videographers they may not have a dedicated gear bag (with padded inserts), koozies can provide an extra layer of protection in any bag.  Photography equipment is expensive.  This is a great trick for keeping it safe.
Plus, you'll also have something to keep your drink cool when the shoot wraps.  You certainly can't go wrong with that.
Do you have any DIY tips for hauling around your gear?
We'd love to hear your own suggestions in the comments!

Photo from Apartment Therapy