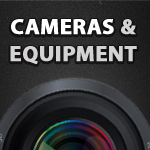 Learning DSLR Video Launches Online Training Store
Want to be a better shooter?  Check out the new training video store at LearningDSLRVideo.com. Tons of great info to improve your DSLR video projects.
We're longtime fans of Dave Dugdale and all the work he does over at LearningDSLRVideo.com.  Over the last few years Dave has built up a loyal following of DSLR enthusiasts who are interested in learning about the newest camera products and improving their own shooting and projects.
Recently Dave launched an extension of LearningDSLRVideo for in-depth video tutorials.  Dubbed "The Store", this section of the site will provide exclusive pay-to-play tutorials on topics of interest to the DSLR video shooter.  The first training series offered covers the Canon 650D T4i specifically and goes over everything you need to know to be proficient at shooting video with this cam (over 3 hours of training!)  Once purchased you can stream or download the training videos instantly.
In the future, Dave says you can look for more in-depth tutorials covering advanced topics on cameras, editing and photography.
Dave has always been a huge advocate of DSLR video and a leading online authority.  For anyone interested in stepping up their DSLR video game, this looks like a great place to start.  Be on the lookout for more tutorial videos coming soon.