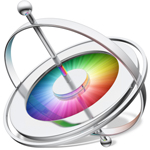 Creating Artificial Lighting in Apple Motion
Adding a light to your footage in post production is easy with the tools within Motion, Apple's video graphics and compositing application.
Apple's Motion is one app that doesn't get enough love in the professional post production community.  It's a really powerful toolset, but often times gets overlooked in favor of it's biggest competitor, Adobe After Effects.  One thing that Motion offers is the ability to add artificial lighting to your video footage – giving the appearance that the scene was actually lit differently on-set.
A recent tutorial by Ben Balser at MacProVideo.com demonstrates how to use the tools within Motion to create realistic in your video footage.  This is useful when you are shooting in adverse conditions, running a tight production schedule or don't have the lighting equipment necessary on-set.  Ben demonstrates how lightingin motion can "cast shadows and can be keyframed."  In the example Ben goes as far as to replicate the look of light coming through window blinds.
Be sure to check out this informative lighting tutorial at MacProVideo.com
If you're more inclined to learn by watching, you can see a lighting in Motion video tutorial in the YouTube video below.  This demonstration from GeniusDV.com shows how to add lights to your Motion projects in a simulated 3D space.  Skip to about half way through to learn about lighting in Motion:
Are you using Motion for lighting and compositing work?
Share your thoughts/experiences/tips in the comments below!