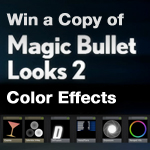 Win a Copy of Looks 2.0 Powerful Color Grading Suite
Give your video projects a pro color treatment with Looks 2.0! Enter to win a copy – a $399 value!
UPDATE: THE CONTEST HAS NOW ENDED.  Thanks to all who entered.
Please follow us on Twitter and Facebook for info on future giveaways!
---
Premiumbeat.com teamed up with Red Giant Software, to give away a copy of Magic Bullet Looks 2.0, a full featured color correction suite!
ABOUT MAGIC BULLET LOOKS 2.0
Give your film or video project a unique style with Looks 2.0's powerful color correction and grading tools.  With an improved user interface and color correction features, Looks 2.0 offers grading tools above and beyond those in your current non-linear video editing application.  Choose from  over 100 unique color looks to add instant flair to your project or create a style that's all your own Looks' professional color correction tools like the 3-way color corrector, contrast 'Pop' and Ranged HSL (to fine tune a particular color in the frame).
In addition, Red Giant Looks 2.0 includes a 'Cosmo' a tool for smoothing out skin tones and cleaning up blemishes – a quick trick for shedding years off your on-screen talent.
Whether your project is SD or 4K+, Looks can process any resolution.  External monitor preview is now supported, so you can grade on a reference display.  The Looks 2.0 effects interface integrates with the majority of professional video editing applications:
Adobe After Effects & Premiere Pro
Apple Final Cut Pro X, Final Cut Pro & Motion
Sony Vegas Pro
Avid Media Composer
Whether you're just looking to clean up the color in a corporate interview or you're grading an entire feature film, Looks 2.0 has got you covered.
Check out Red Giant's Plot Device, a film that uses multiple Looks 2.0 presets for color grading:
ABOUT RED GIANT SOFTWARE
For the last 10 years, Red Giant has been on the forefront of effects for film, television and web video.  From broadcast design to color correction, their product line consists of over 60 professional effects prod cuts.  You've likely seen feature films that utilized Red Giant effects – The Social Network, The Curious Case of Benjamin Button, Angels & Demons, among dozens of others.  Big thanks to Red Giant for sponsoring this giveaway!