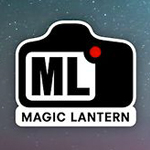 Magic Lantern Gets Update – Firmware for DSLRs
Supercharge your Canon DSLR with Magic Lantern, a third party firmware that adds pro features and useful camera functions.
"It's no longer a hack, but it's strongly heading towards a solid piece of engineering that you can trust."
For the last three years the developers of Magic Lantern have continued to improve and expand the functionality of the third party Canon DSLR firmware.  This newest release brings more useful features – and added stability (previous versions were prone to camera crashing).  What was once considered a "camera hack" is now being looked at as solid application that can really improve the functionality of your Canon EOS DSLR camera.
Although intially created for Filmmakers, Magic Lantern now offers improvements that benefit both the DSLR photo and video shooter.  Among the improvements in the Magic Lantern Stable v2.3 release:
Faster Zebras: Quickly identify highlights and shadows that exceed acceptable limits.
Customizable Menus: Personalize the camera to suit your needs.  Only dispaly the funcations that are useful to you.
Automatic HDR Bracketing: Magic Lantern will analyze the scene and shoot the number of shots to cover the dynamic range.
Advanced Frame Rate Control: Dial in the frame rate you'd like to use all the way down to .2 FPS
Timelapse Upgrades: Features include an advanced intervalometer and improvements to bulb ramping.
Fast Playback Zoom:  Press one button to zoom in all the way and check focus.
Improvements to Stability:  Pros who  rely on Magic Lantern will be glad to know the firmware is more stable than ever.
If you're a Canon DSLR shooter looking to get more out of your camera, give Magic Lantern a try.  It's full featured and free after 8/13/12 (before that a donation will get you a download).
**DSLRNewsShooter.com gives the newest Magic Lantern update a test drive.  Read the full review.
Magic Lantern 2.3 Promo Video: