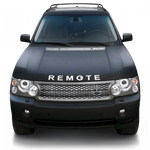 Stylish Mobile Video Editing with Radar Remote
Radar Mobile Studios are making video editing and post production mobile – and luxurious! Check out their DIT equipped Land Rover, the Radar Remote.
Los Angeles based Radar Mobile Studios is making it easier to ingest, secure and backup your video media on-the-go. At the 2013 NAB Show we had the chance to check out their post production Range Rover, The Remote – and wow, it's a beauty. Not only luxurious in style, The Remote also packs a punch when it comes to video processing technology. Check out some of the specs from the Radar Mobile site:
6 TB Fast Storage, Expand up to 10 TB

Up to 1 GB/s transfer speeds

Secured login and file-access privileges

Eizo Color Grading Monitor

HD-SDI input for HD video assist.

21.5″ Multi-Touch Interface

USB 2.0 Gigabit Ethernet, Firewire 800

All ((RADAR)) Vehicles can plug into each other using our 40Gb/s link to expand and scale capabilities.
The Remote seems like an ideal solution for mobile roadshows, reality television anytime you have super tight production turnarounds. Shoot out dailies, sync sound or quickly generate client approvals without ever leaving the set.
The Remote rents for $795/day. Check out our product demo for more details:
Need a bigger mobile post production solution? The "One" mobile studio is a full size post production luxury bus that can fit even greater needs, complete with producers suite! Click here for more details.  
Would you use one of these mobile post production vehicles?
Share your thoughts  in the comments below!