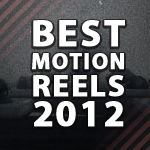 Inspiration! Best Motion Design Reels 2012
We've rounded up the best 2012 motion design reels!  See work from some of the world's best designers and motion artists.
From commercial agency work to creative freelancers, these reels represent some of the best motion design work being done in 2012.  These videos represent a variety of unique themes and techniques made using pro motion design tools like Maya, Blender and After Effects.  Awesome samples of tv spots, broadcast identities, program titles and animation – check out who made the list!
2012 REEL from leftchannel
COSMO RAY 2012 REEL from Cosmo Ray
SHOWREEL 2012 from Sergio Calderon
DRASTIC MOTION 2012 REEL from Drastic Motion
SYNDROME 2012 REEl from Syndrome Studio
BEN IN MOTION 2012 REEL from Benjamin Nichols
2012 MOGRAPH REEL from Maha Mohtaseb
ALEX MAPAR – 2012 REEL from Alex Mapar
2012 LOICA REEL from LOICA
RG MOTION – DEMO REEL 2012 from Rodrigo Gusmão
Do you have an awesome motion design reel?
Share it in the comments!