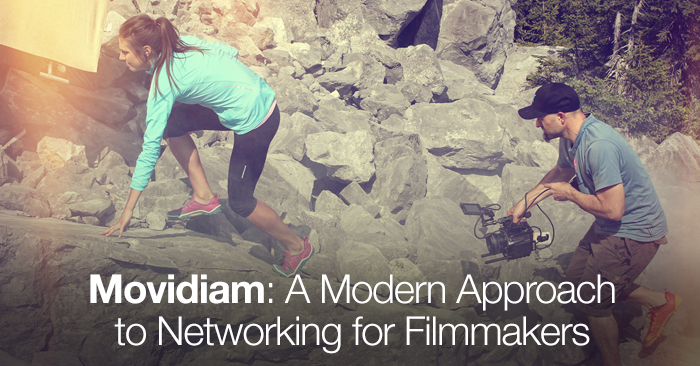 Movidiam: A Modern Approach to Networking for Filmmakers
Movidiam is a new web app set on changing the way filmmakers and video pros connect and collaborate.
We get a lot of requests to try new software, promote new websites or test out new gear, so we have to approach each of these request with caution. Is the product as good as it claims? Does it effectively address a need of the pro film/video community? Would anyone actually use it?
When we were recently approached by Movidiam CEO George Olver about his networking and project management app for filmmakers, we had those same considerations. But after speaking with George and giving the app a test run, it's safe to say Movidiam is the real deal.
There's been a handful of networking sites for video pros pop up over the last few years but none are as comprehensive, or as visually stunning, as Movidiam. Built as both a networking site and project management tool, Movidiam allows filmmakers and video professionals to connect and collaborate on projects. With the app you can:
Create your profile to showcase your skills and work examples
Hire a crew remotely
Create dynamic call sheets to share with your crew
Generate production budgets
Pay your crew through the site quickly and securely
Manage video approvals with the ability to add notes/requests
Many of the features, like creating a profile, can be done with a free Movidiam account but more powerful project management features must be 'unlocked' for a flat fee of $25/mo. The app is beautiful, feature rich and centralizes many aspects of the filmmaking process. The app seems like a natural fit for production companies and agencies, who may currently rely on email chains to organize and coordinate production schedules and staff.
Screenshot showing the project management interface:
The real test of Movidiam's success will hinge on user adoption. It will only work if they onboard as many filmmakers as possible early on. It's already been shared on many of our favorite video/film sites like Cinema5D, NoFilmSchool, Pro Video Coalition, RedShark News and DSLR Video Shooter. Hopefully, with this kind of exposure they can quickly pick up the user base to make the app a central tool for video pros everywhere.
Still curious about Movidiam? CEO George Olver recently addressed some questions we had about the app:
Q: What sparked the idea for Movidiam?
A: Working in the industry for 10 years I've encountered many pain-points that we are trying to seamlessly smooth with Movidiam.  New Internet technologies allow anyone anywhere to access info and there are some amazing possibilities to help filmmakers that were not feasible only a matter of years ago.  Agencies and businesses need to find filmmakers to satisfy their content needs and there is not currently a efficient and affordable way to do this.
Q: Is Movidiam for large post production operations or small run and gun video producers?
A: Movidiam is an inclusive application for all in the filmmaking process from single man shooter to large scale productions.  The tools and feature can scale dependant on the size and scope of the productions. All individuals, freelancer or agencies can build a profile to showcase their work and expertise.  Visibility of talent and expertise is a core mission of Movidiam. The system works to support production at any point through the film workflow.
Q: Say I need to organize a shoot in multiple locations internationally. How would Movidiam aid in that?
A: If budget or time is limited, use Movidiam to search talent across the globe. On the set, they can share location information to make sure they have arrived at the shoot, use dynamic call sheets to make sure they are filming the correct and latest sequences, share and manage project files to allow you to continue working from the comfort of your office.
Easily contact your entire team or select groups with the messaging feature and track all project data to ensure that everything is accounted for.
We plan to allow Hire facilities and allow rental of equipment so if you do plan to travel yourself you don't always need to bring your entire kit.
Q: How many professionals do you currently have interested/signed up for the service?
A: Five digits at this point, just into the second month of preregistrations.
Q: Movidiam appears to cover the whole production pipeline, from pre-pro all the way up to editing and client approvals. Does every person on the production team need to sign up for Movidiam or can info like call sheets and video approvals be sent to people who haven't signed up for the service?
A: You don't have to sign up it is possible to provide private links with passwords for specific access to files, call sheets and video revisions. Offline versions of call-sheets will also be avail.   For higher functionality on a project being invited to the system or signing up will be beneficial.
Q: Does Movidiam take a finders fee or is simple a flat monthly payment?
A: Movidiam provides project management features to creative for a flat monthly fee of $25 to gain access to all of the services.  Freelancers can work on one of these projects for free and get paid through the system easily and on time where there will be a transaction service charge.
Q: Any benefits for early adopters of the service?
A: Preregisters will gain first access to the service, two months of free subscription to the project management tools to have have a good look around. We will also give first access to custom URL's for profiles.