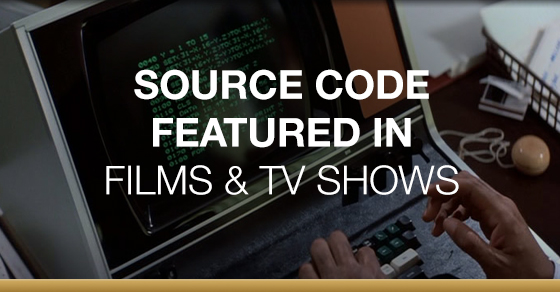 MovieCode is a Fun Archive for Film Buffs and Programmers Alike
Is the computer code featured on TV shows and films the real thing or just a made-up string of nonsense? MovieCode is a website that aims to find out.
The image above is a screenshot taken from the 2001 film "Swordfish", where John Travolta hires Hugh Jackman (one of the world's greatest hackers) to write a computer program to steal money from the US government.  Of course then, like many 'high-tech' plots, the film features shots of code being typed out on a simulated computer screen.
This type of code in popular media got British programmer John Graham-Cumming thinking about the realism of the computer code we see in TV and film. Is it based on real-life programming languages or is it all a bunch of made up text? From that, MovieCode was born.
On the site, readers submit shots of code from television/film and Graham-Cumming, or others, will deduce the programming language and what the code actually means (if anything).
Even as a non-programmer, I find the experiment fun. It's certainly got me reminiscing about some of the featured shows/films from years past…and how attention to detail is important in EVERY aspect of a film project.
Check out MovieCode on Tumblr – and submit screenshots of your own favorite TV shows and films!