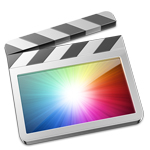 Complete Multicam Workflow in Final Cut Pro X
Video pro and Premiumbeat blogger Ben Consoli demos his efficient Final Cut Pro X multicam workflow – essential vieweing for FCPX editors!
Although Final Cut Pro X continues to catch flack from some video pros as a more "amateur" version of it's predecessor, there is one function who's improvement cannot be debated – multicamera editing.  Editing multiple cameras in Final Cut Pro 7 was cumbersome and sometimes required more than a little magic to make it work.  In the latest versions of FCPX, multicam really soars, with high marks for ease of use.
In the following presentation video, video pro and early FCPX adopter Ben Consoli shares his efficient Final Cut Pro X workflow with the audience at a Boston Creative Pro User Group meeting.  Ben uses an actual project to show off how you can quickly multicam edit and grade footage in FCPX.
The demo will cost you about a half hour, but it's WELL worth it if you're considering any kind of multicam video editing in the future.
Click here to see Ben's FCPX blog posts.