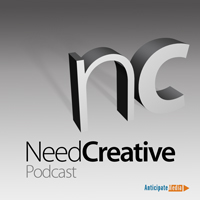 NeedCreative Podcast: A Weekly Dose of Video Production Knowledge & Inspiration
If you're looking to stay on top of the video production industry, get your fix weekly with the NeedCreative Podcast.
An audio podcast might seem like an odd choice to learn about a very visual medium like video or filmmaking, but the guys behind the NeedCreative Podcast have got it down! Each week hosts Paul Antico and Ben Consoli showcase the latest news in the industry and bring on guests that are leaders in the video production field.
Past guests have included well known directors of photography and creative pros like Shane Hurbut, Nino Leitner, Joe Simon and Rodney Charters (DP for Fox's "24") .
Started in June of 2012, the NeedCreative Podcast now boasts listenership in over 140 countries, and the show's focus maintains this global focus.
The hosts are both working professionals and skilled in all things related to production: cameras, lighting, video editing, etc., so their commentary and insight comes from a real-world perspective. And just in case you're skeptical, this isn't dry tech-only chit chat.  There's a big entertainment factor here – the hosts (and guests) are extremely personable and funny.
Check out the podcast 1 of 3 ways:
Subscribe via iTunes and get new episodes delivered
Subscribe via Stitcher and access through the free Stitcher app
Visit AnticipateMedia and stream episodes online.
The video production industry changes rapidly. Stay up to date with the latest happenings AND get a healthy dose of creative inspiration – give the NeedCreative Podcast a spin.
Premiumbeat is a big fan of the podcast & recently signed on as a sponsor.