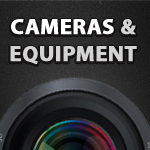 Neutral Density Filter Shootout – Which ND Filter is Best?
Looking to buy an ND filter?  Be sure to check out this video review.  6 popular ND filters go head-to-head and one is chosen as a best buy for pro photographers and DSLR shooters.
LearningDSLRVideo.com's Dave Dugdale recently completed a thororgh test on 6 commercial neutral dentisty filters for photographers and DSLR shooters.  The real world test of these filters included the following brands and models:
Polariod ND fader Filter
Genus ND fader Filter
Lightcraft Fader ND Mark II
Tiffen Variable ND
Singh-Ray Vari-ND Filter
Heliopan 77mm Variable ND Filter
What is a neutral density filter?
For those unfamiliar, a neutral density filter is a glass filter that you affix to the end of a camera lens.  The filter modifies light intensity, which gives a photographer or DSLR video shooter more flexibility in their shot, with the ability to use a larger aperture.  Neutral density (or ND) filters range in price and quality/effectiveness.  Dave tested the ND filters for the following factors:
Sharpness
Bokeh
Color Cast
See which ND filter Dave named a best bet based on quality and cost.  For anyone looking to purchase or learn more about professional grade ND filters, this video is a must watch: