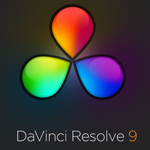 Overlays & External Fill in DaVinci Resolve 9
Here's a trick for overlaying textures, footage or graphics in your video projects when color grading in DaVinci Resolve 9!
Professional colorist and editor Juan Salvo shares a trick for creating unique overlays in Blackmagic's DaVinci Resolve 9.  Sure, you can overlay a texture as a new track in the Resolve timeline, but this can inadvertently cause problems.  The sizing may not match the source footage, the overlaid clip wouldn't be 'connected' to the clip below it….just not a very streamlined process.
Juan suggests a better way to do this by connecting an overlay clip to your footage as an 'external fill' and adjusting the blending mode.  The biggest advantage of this seems to be that the overlay is then "attached" to your footage – a better way to keep your Resolve project organized.  You can also adjust the size and position of the overlay, grade it separately or quickly enable/disable it.
This is a handy feature for adding grain to your footage (as shown in the video example) but would also be useful when working with graphics, flares or other textures.  See how it's done in this DaVinci Resolve video tutorial and be sure to check out Juan fantastic color grading reel below.
Juan Salvo is active on Twitter.  Follow him!
Resolve 9 External Fill  from Juan Salvo
Juan Salvo ColorReel 1080 from Juan Salvo