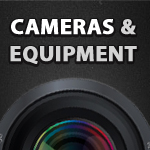 Quick Photo/Video Project: Storing Seamless Paper Backdrops
This DIY project is a simple solution for storing your seamless photo/video backdrops or gel rolls.
The following video tutorial from pro photographer Rob Grimm will definitely have you saying "Why didn't I think of that!?"  If you work with seamless paper backgrounds or rolls of lighting gels, you've no doubt struggled with how to store them. Paper seamless is prone to getting dirty or wrinkled, rendering it pretty useless when it comes time to shoot with it.
Rob's  DIY solution involves making a simple hanging system using common (and inexpensive) hardware materials: rope/string, dowel rods, a board and eye hooks. Additionally, he painted a chalkboard on the wall behind it, making it easy to take notes on inventory. This quick project is perfect for anyone with their own photo or video studio.
Thanks for sharing, Rob!
Originally posted on the fantastic photography site, DIYPhotography.com