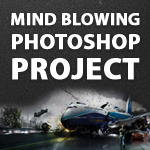 Mind Blowing Photoshop Project
Watch the work process of a Photoshop wizard in this epic timelapse process video!
So you think you're good at Adobe Photoshop?  Well, prepare to be astounded in this timelapse video showing one artist's Photoshop skills.
Using a variety of matte painting, lighting, shading and colorization techniques, graphic designer Alexander Koshelkov creates a dramatic depiction of a commercial airliner crashing into an urban highway.  The final picture is composited together from tons of individuals images with stunning precision.  Koshelkov's Photoshop skills are nothing short of incredible!
For best effect watch full screen:
Have you seen other amazing Photoshop work?  Share it in the comments!