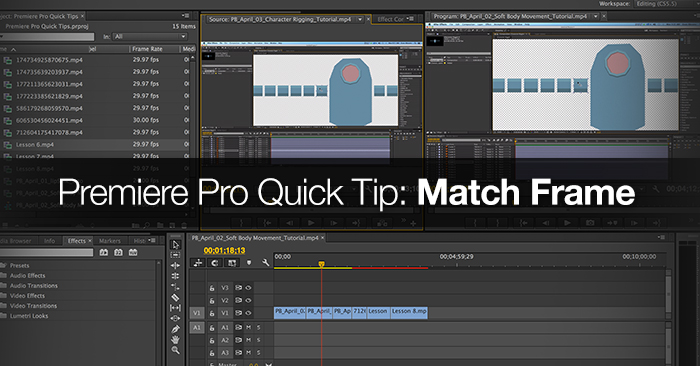 Premiere Pro Quick Tip: Match Frame
Save time and quickly locate clips using the 'Match Frame' shortcut in Premiere Pro.
If you don't have the luxury of having an assistant editor or struggle to keep your video editing projects organized, you may have some difficulty trying to keep track of all the footage in your project (especially in the case of long interviews).
Adobe Premiere Pro offers a quick tool that can find the source clip of any footage that appears in your timeline: Match Frame. This is perfect if you are editing a documentary, reusing a clip multiple times or if you simply wanted to change the in-and-out points of your edit.
Here's a quick step-by-step for anyone looking to save time using the 'Match Frame' feature in Premiere Pro:
1. Find the clip you want in your timeline
Move your current time indicator to the clip or frame in the timeline that you are trying to recall.
2. Click 'Match Frame'
Click the 'Match Frame' button by going to Sequence> Match Frame from the top menu bar or hit "F", the Match Frame shortcut.
3. Quickly locate clips = time savings
Your source clip will pop up in the preview panel making it easy to access.
Want to learn more quick tips in Premiere Pro? Check out our previous posts on Switching to Premiere and 10 Time Saving Tips in Premiere Pro.
Have any other quick tips for Premiere Pro? Share in the comments below.