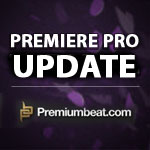 Adobe Updates Premiere Pro to 6.0.2
Adobe has released an update to video editing application Premiere Pro to address Mac retina display support as well as a number of bug fixes from the initial CS6 release!
If you're a Premiere Pro video editor you may want to make the jump to Adobe's newest update: 6.0.2.  The update primarily targets new MacBook Pro users to provide support for their fancy HiDPI (better known as 'retina') displays.
Other issues addressed include support for Windows 8 for PC users and support for GT 650M and GTX 680 GPU processing (again, effecting owners of new MacBook Pros).
The intial CS6 update was a pretty big step up for Premiere, so as you have guessed (or experienced firsthand) there were quite a few bugs present in that release.  There Premiere Pro development team must have been pretty busy these last few months working out the kinks – just check out the big list of bug fixes below.  For more information on the Adobe Premiere Pro 6.0.2 release see the official announcment page from Adobe.
Make the update on your version of Adobe Premiere Pro by choosing Help > Updates in the app.
Premiere Pro 6.0.2 Bug Fixes:
tearing in image when using XDCAM EX footage
numeric keypad keys couldn't be assigned to keyboard shortcuts
audio deleted when enabling Audio Follows Video without enabling multicam for audio track
color shift introduced by Three-Way Color Corrector at default settings when GPU acceleration turned off
color shifts in some imported M2TS assets
Premiere Pro ignored Command+Option+H command to hide applications on Mac OSX
Auto-save window appearing over other applications when Premiere Pro was in the background
crash during auto-save if a third-party effect's modal dialog box was open on Mac OSX (affects CoreMelt, etc.)
rendering preview files using OpenCL caused dropped frames in some cases
rendered preview files not used when restarting Premiere Pro in some cases, including when using certain third-party effects
when using CUDA on Mac OSX to export a sequence consisting of a very large number of still images (e.g., timelapse), GPU memory could become depleted and output frames corrupted
audio recorded through Audio Mixer (e.g., voice-over recording) appearing incorrectly as duplicated audio
channel output mapping for adaptive tracks was reset to default settings for duplicated sequences
audio waveform displayed incorrectly for clips with speed adjustments
audio playback for multichannel files too quiet in some circumstances
markers added during peak file generation not saved if Premiere Pro quit before peak file generation completed
some 4:2:2 footage appeared jagged or pixelated in Program Monitor or Source Monitor when no effects applied
some MXF files going offline, requiring relinking
relinking to AVCHD media on Mountain Lion (Mac OSX v10.8) not possible for projects created on other operating systems
automatic relinking of footage occurring incorrectly in some cases
frames imported out of order for some MPEG assets
changes to timeline clip channel mapping performed using the context menu for the clip in the Timeline panel Audio were not saved with the project
Audition opened when choosing Reveal Project In Explorer from context menu for a clip in Premiere Pro Project panel
multicam source sequences in Source Monitor lost A/V synch when an In point was created
setting an In point in the Source Monitor created an In point for all clips in the Media Browser directory
thumbnails not appearing for some XDCAM HD items in Project panel and Timeline panel
deleting a nested sequence not providing a warning
layers not correctly counted in PSD file (Photoshop document) if layers contained in groups
importing a QuickTime file created by the FORK media system also imported the disabled proxy track
QT32Server failing in some circumstances, disabling ability to use some QuickTime features
some exported AVC-I files didn't include appropriate drop-frame timecode information, so appeared with non-drop-frame timecode
closed captioning metadata was being set incorrectly
many other fixes in Mercury Transmit and in plug-in SDK, fixing issues with AJA, BlackMagic, Matrox, and other third-party I/O systems for video monitoring, tape capture, and exporting to tape
various fixes to FCP XML import and export
crash when removing some effects using Remove Effects command
crash during OMF export in some circumstances
crash on Mac OSX when computer wakes from sleep
various fixes for other crashes
various performance and stability improvements for CUDA and OpenCL processing