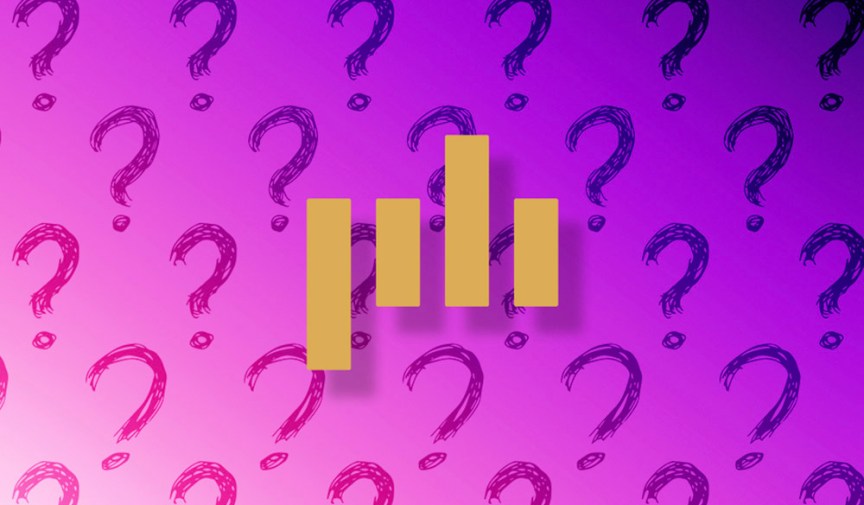 PremiumBeat vs Soundstripe
Let's compare PremiumBeat vs Soundstripe — library size, contributor quality, pricing, licensing, searchability, and more.
Content creators may come in all shapes and sizes — video production pros, small and medium business owners, live streamers, marketing leads, social media managers — but they all have one thing in common: They need creative assets like royalty-free music from sites like PremiumBeat or Soundstripe to make their content stand out and improve their odds of reaching their people.
And not just any old stock music will do; the internet is crowded with middling music libraries and underwhelming tracks. PremiumBeat does things differently, because today's content creators demand more.
They demand royalty-free music that is superior in quality, exclusive, priced right, and offered by an operation that has standards as high as their own. They want plentiful options, attentive customer service, and ease of use. And that's why today's most savvy and successful content creators depend on PremiumBeat for their royalty-free music needs. We simply hit all the marks that matter.
Sure, that's easy for us to say — but we hustle every day to make sure we can back it up. We crunch the numbers. We talk to customers. We even look at what some of our competitors say when they compare themselves to us.
Let's take a look at how PremiumBeat stacks up against one other music site — Soundstripe. We'll compare all the things that mean the most to today's hard-working content creator: music library size, contributor quality, pricing, licensing, searchability, and more.
Some of these findings are objective, some are subjective, but we think you'll agree that it all adds up to prove a couple of things: music is about high quality, quick discovery, library size on both PremiumBeat and Soundstripe.
---
PremiumBeat vs. Soundstripe
---
1. Music Library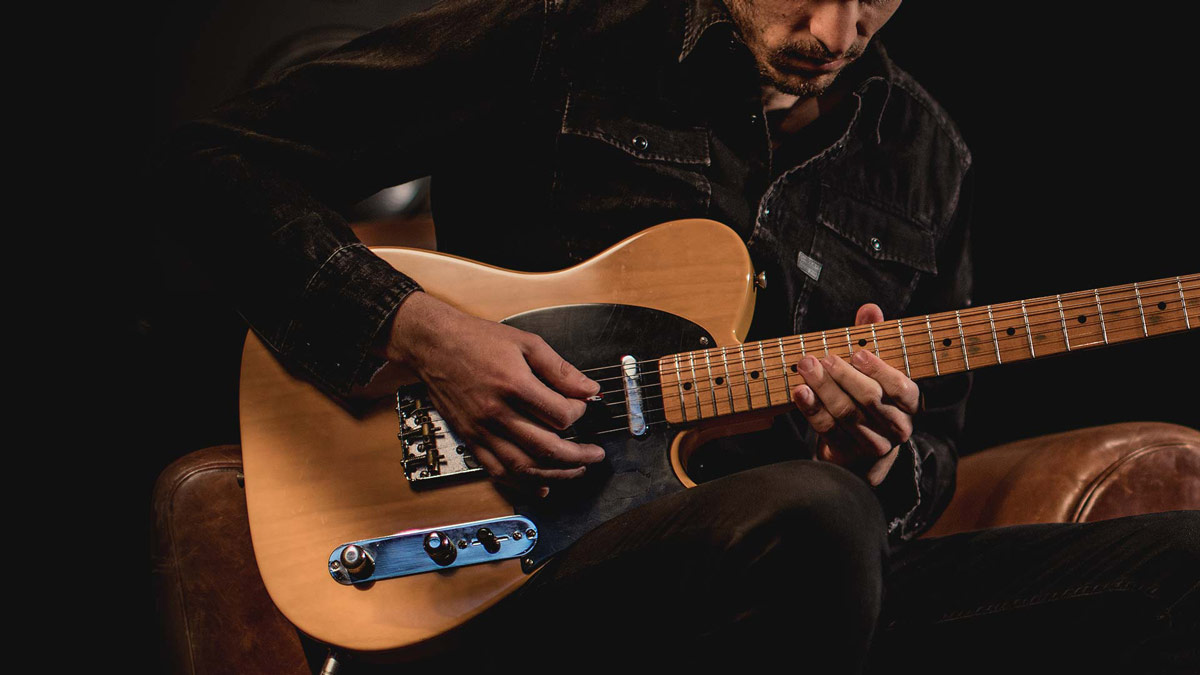 Let's start with a "big picture" overview of the PremiumBeat music library, and then we'll zoom in on certain aspects of the library that, admittedly, we're pretty proud of.
PremiumBeat's ever-expanding music library currently holds over 18,000 songs (and growing) that are 100% exclusive to our collection — you won't find them anywhere else.
PremiumBeat's music library covers 26 genres that cover roughly 150 subgenres. For example, PremiumBeat's "Cinematic" music is a subgenre that sits next to other film-specific sub-genres like Action, Dramedy, Horror, Trailer, etc. You'll find all of those nested under the Production/Film Scores genre (which has almost 4,500 songs).
This subgenre approach to library organization is designed to make finding what you're looking for faster. Need pop music? Okay, what kind? You've got seven types to choose from, like Bubblegum, Indie, and Electro. Looking for jazz? Acid, Latin, Lounge, Smooth, or other? Our World Music section alone has almost 30 regions/countries/cultures to choose from, and we also offer a growing number of rare, difficult-to-produce, and trending ambisonic, binaural, and ASMR tracks.
Beyond genre, when it comes to finding music that fits a specific mood, Soundstripe gives you a respectable 13 to choose from. PremiumBeat gives you 25+ options (aggressive, uplifting, every mood in between) so you can really dial in your search for the perfect track to capture the vibe your project demands.
We'll go deeper into our advanced search filters that make your music easy to find, but even at a surface level, our music is organized in a way that makes it a breeze for you to get your tracks and get back to creating content. For example, if you're working on a corporate video, you simply search for "corporate." Don't want to search? No problem, just pop in your earbuds and check out our curated "Corporate Cool" collection.
Speaking of collections, PremiumBeat currently offers 60+ of these handmade mixes, each of them painstakingly curated by our in-house music experts. Soundstripe offers quite a few playlists as well, and a lot of them are organized by use case, which is a really smart move and super customer-friendly. They also have playlists outside of their use-case system, like Creator Spotlight, Staff Picks and Staff Curated. While the difference between the two "staff" playlists isn't obvious, it is nice to see that Soundstripe employees are involved on a "hey, check this out" level.
That kind of "Hey, check this out" excitement is essential for success in the royalty-free music business. You can't fake an authentic passion for music, and that passion is ultimately what pays the bills. Our music experts are music industry pros, and they use their combined experience to ensure that PremiumBeat's music isn't just good — they're looking for (and only accept) music that is vital.
They triple-vet every song submitted by our small contributor roster that includes Grammy winners and platinum-selling artists. They cultivate and maintain relationships with top producers like Vincent Tone, a sought-after pop collaborator who has partnered with international chart-toppers like Dua Lipa and BLACKPINK (and the first artist featured in the PremiumBeat Signature Series).
The experience and passion and expertise of our music team is why jazz great Sonny Lauderdale calls PremiumBeat home after touring as a sax player with Maynard Ferguson's Big Bop Nouveau Band and why Bridget Barkan sings for PremiumBeat when she's not opening for Lady Gaga or working with Martin Scorsese.
Another point of difference in the PremiumBeat vs Soundstripe discussion — PremiumBeat offers 4000+ tracks of PRO-free music. Soundstripe offers none. Why does this matter? What is PRO-free music?
Think of it this way. While using royalty-free music can keep your content from getting pulled from YouTube, using PRO-free music can keep you from getting pulled into court over copyright issues. See, the PRO in PRO-free stands for Performance Rights Organizations. These companies work on behalf of artists for all kinds of things, most notably enforcing copyrights and collecting royalties.
Here, we'll ask the question for you — "But why does PRO-free matter if there are no royalties involved with copyright-clear royalty-free music?"
Honestly, for some? It won't matter. But if you're working on a project destined for television, film or radio, some broadcasters and end clients will require that all music used in your content be composed by artists who are free of affiliation with Performance Rights Organizations. By offering PRO-free tracks, PremiumBeat is essentially offering greater protection for a greater number of possible projects. Your content can go further. And it can do so with no extra worries on your part. Broadcast away!
Another very cool thing offered by PremiumBeat that you can't get from Soundstripe and other royalty-free sellers — the Masterworks series. If you're a music nerd like us, you'll find this delightful.
The Masterworks series features live field recordings of some of the top orchestras in the world. The series includes popular classical works and original cinematic tracks captured live at a dedicated session. The result is audio bliss. Truly film-industry-quality recordings. If you're wondering why we'd go to such lengths, the answer is simple: You deserve the best music possible, and nothing's better than live. For orchestral pieces, a synth will never beat an actual string. Listen for yourself:
---
2. Music Licensing
Now that you know what the PremiumBeat and Soundstripe libraries have to offer, let's look at the steps required to license music for your projects and how it will affect your budget.
PremiumBeat licensing is simple, affordable, and flexible. There aren't any hoops to jump through, and we keep the fine print to a minimum. We want you to find your music, license it, and get back to your project in as few clicks as possible.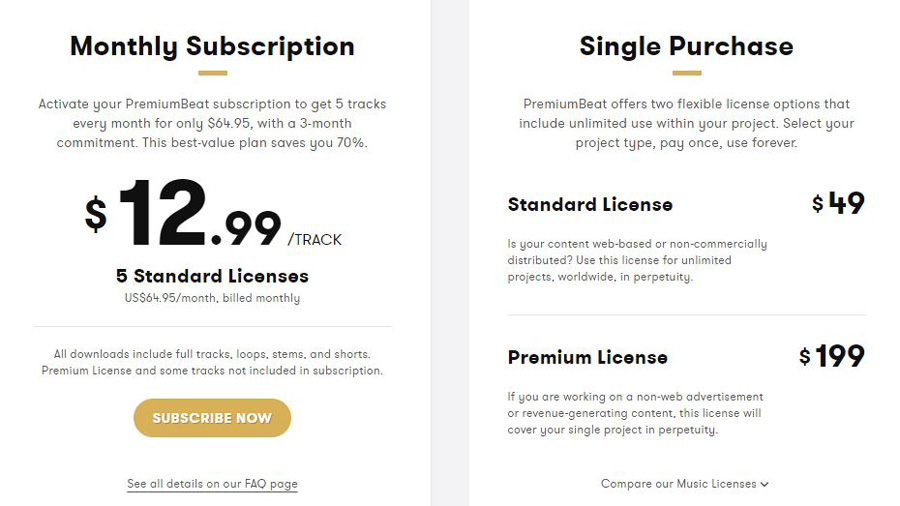 Here's how licensing works at PremiumBeat:
Single Purchase Standard License
When you buy a single track from PremiumBeat, you do it with our $49 Standard License. This license covers content that is web-based and non-commercially distributed, and it allows customers to use their track for unlimited projects, worldwide, in perpetuity.
Additionally, downloads include shorts, loops, and stems that make edits easier to nail. The Standard License is a solid deal that keeps you 100% safe from legal troubles and workflow snafus.
It was our most popular option until we introduced —
Monthly Music Subscription (Best Value)
Our new Monthly Music Subscription is licensing at its simplest and most affordable. Subscribers get five tracks every month for just $12.99 each. That's over 70% in savings when stacked against the same number of songs licensed individually. To keep things easy and organized, subscriptions are billed $64.95 monthly over the span of a hassle-free three-month commitment. All subscription downloads include full tracks (.wav and .mp3) and are covered by the previously mentioned Standard License. They also include those wonderfully helpful shorts, loops, and stems.
Premium License
Our third licensing option is the $199 Premium License. This covers non-web advertisement and/or revenue-generating content, and it covers a single project in perpetuity.
Soundstripe also offers both Standard and Premium Licenses, but their approach is different in a few important ways.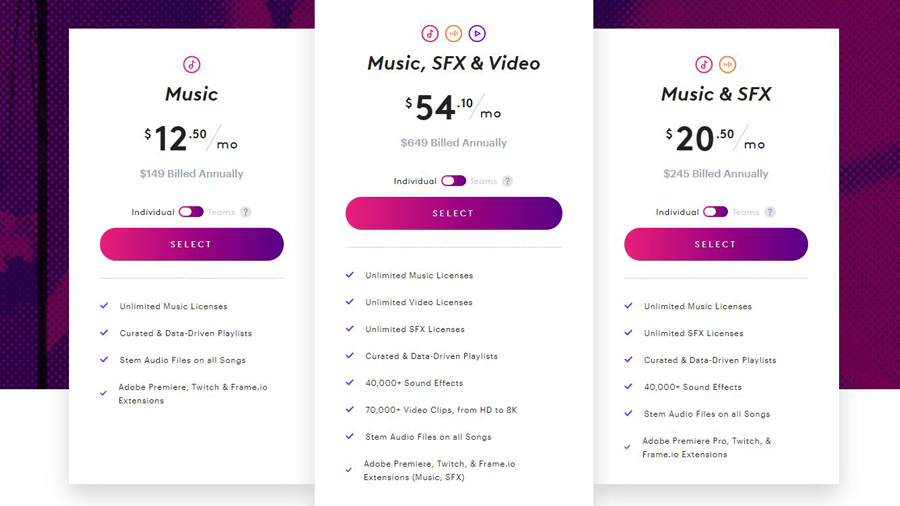 Soundstripe's Standard and Premium licensing tiers are essentially annual upfront subscriptions. They both include unlimited downloads, though you'll find your song choices limited to just 4000 tracks.
Again, both licensing options are billed annually, so you're spending more upfront. If you only need one song, you'll spend $135 with their Standard License. Their Premium License ($21 per month, $252 billed annually) adds access to 40,000+ sound effects. It also includes stems, but not shorts and loops — all three of which are included with PremiumBeat's Standard License.
Regarding PremiumBeat vs Soundstripe, there are a few other key differences that might matter to customers: PremiumBeat's Standard License lets customers use their tracks in as many projects as they want. All of Soundstripe's license options are limited to single use. Soundstripe also asks that customers tell them what kind of project the song is for, while PremiumBeat doesn't. Your song, your license, go nuts.
Soundstripe may also include stock video in their packages. But did you know that by creating a PremiumBeat account, you have access to millions of video clips on Shutterstock? Yes, you heard it correctly — your PremiumBeat credentials are also valid on Shutterstock.com. And Shutterstock Video offers an ocean of assets, from video clips, and high-quality cinematic footage to VFX, overlays, and toolkits with Shutterstock Video Elements.
---
3. Music Search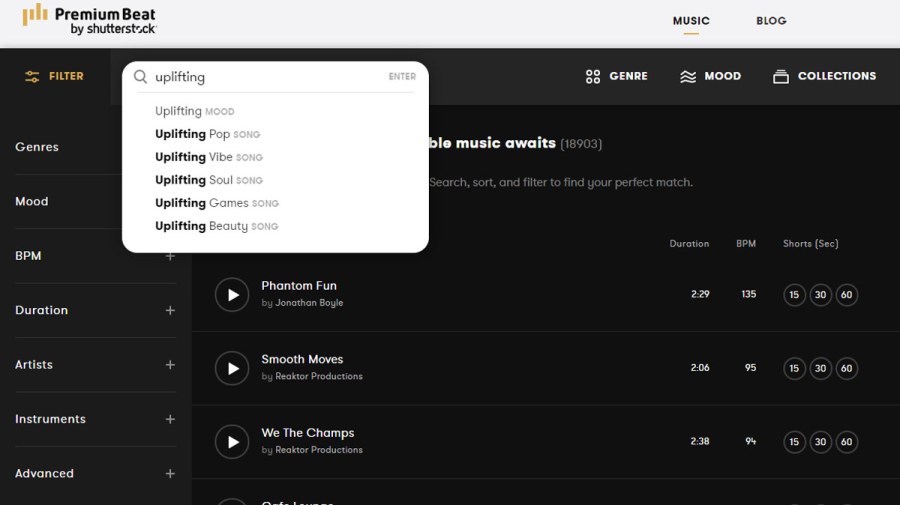 Between PremiumBeat's 20,000+ songs and Soundstripe's 4,000, well, that's a lot of music. With so many songs to choose from, search power matters.
Fortunately, as our library grows, so do our search capabilities. We improve the discovery process constantly by asking thousands of videographers, filmmakers, and podcasters to identify ways we can make their search experience better. Ultimately, we've ensured that you can search how you want to search. And no matter how you want to search, we've made sure it's fast and easy to find your tracks.
Open to suggestions? Start your search with the dynamic tabs on our our homepage. The Browse tab presents our music team's curated picks, trending tracks, and new releases. The Collections tab gives you fast access to the ultra-curated music collections we argued about, agreed on, and then argued about some more. Already know the genre and the mood you need for your project? The Genre and Moods tabs are there to get you to your song faster. Again, this is all on the homepage. Let's go deeper.
PremiumBeat and Soundstripe both let you search with standard filters like BPM, duration, and instrument. For example, while Soundstripe offers 18 instrument-specific filters, PremiumBeat includes 141 — featuring everything from "a cappella voices" to "zither." Truly, it's never been easier to find the perfect Bouzouki-based song.
But the real difference in discovery power becomes more obvious when you look at the advanced filters that add speed and control to the search experience. Here's what each site offers under Advanced Filters:
PremiumBeat Advanced Search Filters
Surround / Immersive
Ambisonic
ASMR
Binaural
Editor's Pick
With Stems
With Shorts
With Loops
Instrumental Only
PRO-free
Free Tracks
Soundstripe Advanced Search Filter
As you can see, we're serious about search. With PremiumBeat, you can even search by a track's preview file name. Here's how that helps.
You've been there, we've been there — you download a preview comp and put it in your project. You hand off a few different versions with a few different temp tracks to your client for approval. They take days, weeks, or maybe even months to get back to you. When they finally do, and you've got the approved version finally in hand, it's time to license the track. That's when you throw the file's name in the search field, and land directly on the track's page. No problem.
At the end of the day, we've made search so simple and effective that you don't even need your mouse. You can browse by keyboard shortcuts and arrow keys. Fast, simple, powerful search — we're all about it.
---
4. Industry Expertise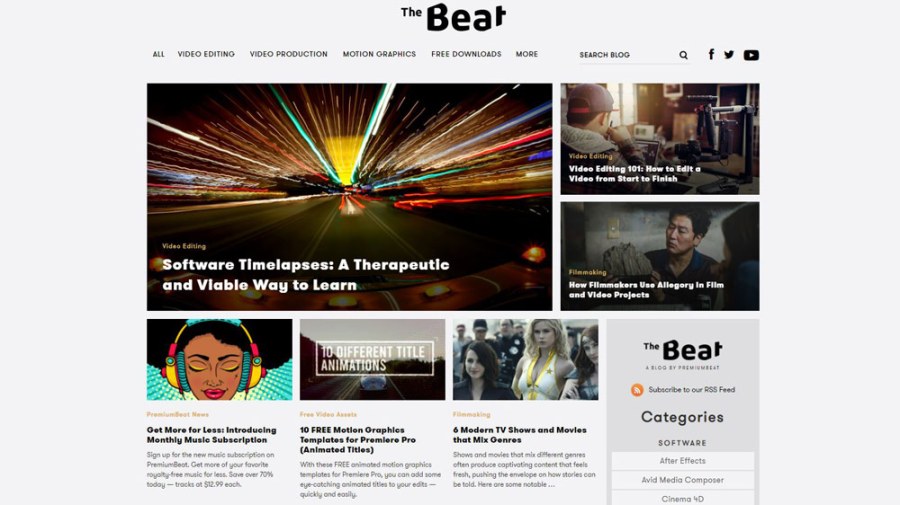 It's not just the PremiumBeat music team that's staffed with real-deal industry pros. Our popular, long-running blog — The Beat — is as well, from the in-house writers and editors to our global network of repeat guest contributors.
Our blog team turns out dozens of film and video-focused articles, tutorials, and free assets every month, all designed to make the lives of our readers better and their workflow smoother.
Soundstripe offers similar content, and you can filter their articles by Film, Vlog, Podcast, News, and All from the blog landing page. Again, their method of letting readers filter content by use case is a smart move.
PremiumBeat's blog filters take it a few levels deeper, allowing readers to find content specific to their NLE and their specific industry interests — cinematography, video editing, color grading, etc. — as well as posts that offer freebies, in-depth gear reviews, breaking news, and more.
Regardless of theme, every post on PremiumBeat's blog is with empathy and authority that comes from the fact that our writers are production pros — experienced filmmakers, videographers, and photographers who understand what our readers are going through as they wrestle with their new NLE, light a dark set, and chase the perfect shot. So, when we offer content about the ins and outs of editing in DaVinci Resolve, it's not keyword stuffed clickbait — it's an actionable lesson written by a Certified DaVinci Resolve Editing Trainer.
Our YouTube channel is populated with videos created by actual YouTubers who maintain their own channels. You like DIY VFX tutorials? Ours were created by an ILM veteran who worked on The Empire Strikes Back, Raiders of the Lost Ark, and more before earning an Oscar nomination for his work on Ghostbusters.
Seriously, even if you never buy a song from us, swing by the blog. It's film school on your phone and tuition is free.
PremiumBeat: Your Go-To Royalty-Free Music Source
We've got a lot of respect for Soundstripe and other companies who help content creators communicate with the world. Plus, they keep us on our toes!
Soundstripe is definitely a solid choice for anyone breaking into vlogging, podcasting, and streaming. Their 4000 song library is exclusive, and the upfront annual cost for the Standard License subscription is reasonably priced. Additionally, the sound effect library that comes with their Premium License is massive, and their content makes it clear that they care for the creative community.
PremiumBeat's highly searchable library of 20,000+ exclusive songs (and growing!) and robust approach to licensing offers creators more — more music for more content, more freedom to use that music however they see fit, and more possibilities and protection for that content to go further.
Of course, we understand that quantity isn't everything. With triple-vetted tracks composed by Grammy winners and empathetic educational content created by Oscar nominees, we think our dedication to quality music speaks for itself as we hustle to make sure you've got the creative assets and support you need to do your best work.
It was a long one! Over to some peaceful tunes now.