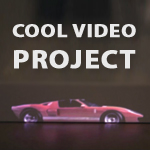 Cool Video Project: World's Smallest Police Chase!
Check out this creative short video that makes a big impact with it's small design!
What do you get when you combine pocket projectors, green screen footage and a unique creative vision?  Speed of Light, a short video by London based directors The Theory and video studio Nexus Productions.  The team recorded action against a green screen using actors, toy cars and a model helicopter.  They projection mapped the video on the walls and desktops of their office with small pocket projectors, for a totally unique effect.
Astonishingly, the video was completed using all real images and no CGI. Tight editing and effective sound design tied the whole piece together.