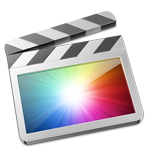 Relinking Audio and Stock Music in Final Cut Pro X
Follow this useful tutorial for relinking your stock music and audio in Final Cut Pro X – a great workflow for testing out music in your video editing project.
Relinking audio files is a quick and easy way to test out music in your video editing project or replace low resolution audio files with a full resolution versions.
Some production music libraries like Premiumbeat.com give you the option to download a preview file to try out in your project before purchasing.  So, let's say you've downloaded the preview, inserted it into your video editing project and created a rough cut of the video to the preview audio track.
Once you get client approval on the music choice you will want to go ahead and buy a high resolution version of the audio file to replace in your project…but you certainly don't want to have to recut the music.  This is where simply "relinking" the music comes in handy.  Final Cut Pro X has a 'relink event clips to media files' function, that will change the referenced audio file while preserving all edits, settings and adjustments.
In the following video tutorial I show you how to easily swap referenced files in your Final Cut Pro X video editing projects – an essential tip for working with demo versions of stock or production music: