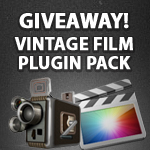 GIVEAWAY! Win Retrograde – A Vintage Film Plugin for FCPX
Give your video footage a vintage film look with Retrograde, a film emulator for Final Cut Pro X. We've got 5 copies to give away!
Retro looks are all the rage.  Instagram, Hipstamatic…Retrograde.
Want to give your footage a cool vintage film look?  Crumplepop and Red Giant Software, makers of quality post production plugins and effects have released Retrograde – a vintage film emulator for FCPX.
Crumplepop has provided us with 5 copies of Retrograde to give away!  Enter to win by following Premiumbeat and tweeting the message below!  You have until midnight on Friday, October 26th to send the tweet.  Winners will be contacted on the 27th.  Only enter once!  Multiple entries will be disqualified.
1. Follow us on Twitter
2. Tweet the Following:
GIVEAWAY! I just entered to win Retrograde for FCPX from @CrumplePop & @Premiumbeat! http://bit.ly/fcpx-retro #Retrograde
You can quickly give your footage an 8mm or 16mm film look by dragging and dropping Retrograde onto your footage in Final Cut Pro X.  You'll get the trademarks of shooting with analog film – grain, dust, scratches and a vintage tinged color palette.  No need to layer filters and effects.
This FCPX effects pack was created using real analog source material giving it an organic analog effect.  Customize and tweak the effect to achieve your own unique look.
DOWNLOAD RETROGRADE for $49 or test out the free trial.
Retrograde in action:
The Making of Retrograde: