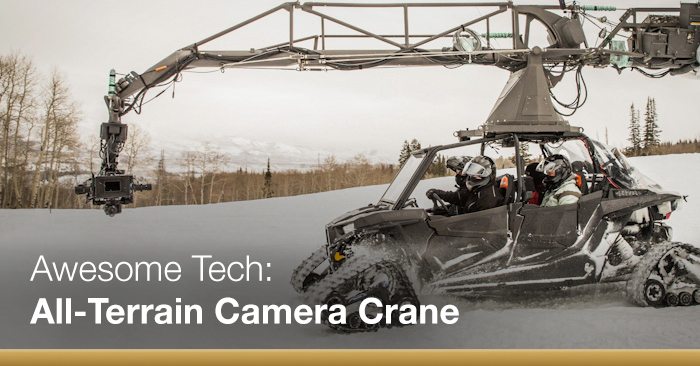 The Camera RZR is an Insane Mobile Video Crane
This new beast is part camera crane, part off-road vehicle – designed specifically for shooting in extreme environments.
To show off the powerful capabilities of a new snowmobile it's best to head out to the 'backcountry', far from roads or civilization. With a large scale camera crew, this task would often require hours of travel time and cumbersome sleds to transport equipment. Now, enter in the Camera RZR, an all-terrain vehicle designed to make this type of shooting infinitely more accessible. Gearheads and camera geeks will love this…
We've seen cameras mounted to cars, trucks and boats before, but this is a new one…a snowmobile with a full scale camera crane mounted on top. In a joint collaboration by "The Factory, a commercial production company and The Ultimate Arm, the film industry's premiere provider of live action gyrostabilized camera arm technology", the Camera RZR is designed to navigate treacherous terrain and extreme weather. It was recently created to shoot the 2015 Polaris snowmobile advertising campaign:
Although much of the available specs on the rig detail the technical aspects of the vehicle (and not the camera equipment) we know the crew outfitted the crane with a RED camera and Phantom (for slow motion shots). The release notes, "the Camera RZR serves as a fully capable crane able to rise 20+ ft. above the trail, creating overhead shots, whip pans, and grand, sweeping reveals."
Check out more details and pics on UTVUnderground. We'll be on the lookout for future sightings of this awesome camera rig!