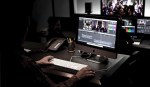 Video Tutorials: Sin City & Pleasantville Effect in FCPX
Want to isolate one color in your Final Cut Pro X project?  FCPX makes it easy! In these quick video tutorials you'll see how.
Like it or hate it, the isolated color grade is one that's often requested by clients….just ask a wedding videographer. Often called the Pleasantville or Sin City effect (after the two popular films that have used the effect significantly), this look is quite easy to achieve in the Final Cut Pro X video editing app.
Shot from Pleasantville (1998)
By applying a color mask to your footage you can quickly select one color in the video frame, and then tweak the color range to include more or less colors in the selection.  Once you've got your color range defined, jump over to the FCPX color adjustment window and drop down the saturation outside the mask.  Super simple.
We've rounded up 3 video tutorials will show you how to achieve the Pleasantville effect in Final Cut Pro X.  They cannot however, prevent you from using the FCPX color technique to make your video super cheesy.  That's completely up to you!
Final Cut King: Pleasantville Effect in FCPX
GeniusDV: Final Cut Pro X Pleasantville Effect
FCPEffects: Color Saturation Tutorial