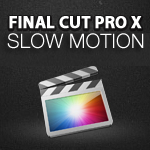 Slow Motion in Final Cut Pro X
Creating high quality slow motion videos in Final Cut Pro X is easier than ever.  In these tutorials discover how to use optical flow to giving your footage smooth slow motion in FCPX.
Final Cut Pro X has a new option for adding slow motion to your video footage – optical flow.  Unlike slow motion in previous FCP versions, optical flow doesn't duplicate frames or blend frames together.  Rather, it actually creates new frames between the existing frames in your shots.  The result is (in most cases) much smoother slow motion in FCPX with less stutter and shake.  It's worth noting that you can experiment with your footage and also try the more traditional "frame blending" slow motion as well to see which looks best.
Check out this very quick and informative video from OliviaTech on how to use optical flow in your Final Cut Pro X projects:
If you prefer to read, rather than watch, your tutorials then check out this rundown on using optical flow slow motion in FCPX by FinalCutWhiz.com
See the difference between optical flow and frame blending in action.  FCPXEffects.com has put together a quick comparison video to show just how smooth optical flow is at creating smooth slow motion in FCPX: