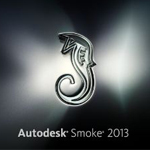 Free Autodesk Smoke Tutorials for Video Editing
Want to get started with Smoke?  Check out these info-filled video editing tutorials for Smoke 2013!
This is an exciting time for video editors.  We're having to say goodbye to our beloved Final Cut Pro 7, but new contenders are entering the video editing app market to take it's place.  Many former editors may be migrating to Avid or Adobe's Premiere Pro CS6…but a radical redesign of Autodesk's Smoke now seems like a very attractive replacement as well.
Autodesk announced a radically updated Smoke application at this year's NAB show, specifically geared torward the video editor (not just the compositer or visual effects artist).  What makes Autodesk Smoke 2013 even more attractive is a drastically reduced price point – $3,495, as opposed to the $15k+ price tag of previous versions.  More details on the launch and Smoke 2013 product specs here.
Although a full commercial version is not expected until later in 2012, a Smoke 2013 pre-release trial should be available sometime in June.  Sign up to be on the product trial list here.
Free Smoke 2013 Tutorials
Autodesk has setup a YouTube channel specifically geared torward the Smoke user, so subscribe to keep up with the latest video news and tutorials.
The following free tutorial videos come from that SmokeHowTos YouTube channel and are geared specifically for the video editor.  Learn how to perform common video editing techniques in the Smoke interface.
Click the topics below to check out each Smoke video tutorial:
 
Smoke 2013 Tutorial:
Viewing Source Footage

Smoke 2013 Tutorial:
Sequences
 
Smoke 2013 Tutorial:
Overwrite/Insert/Drag

Smoke 2013 Tutorial:
Timeline Navigation 


Smoke 2013 Tutorial:
Track Patching


Smoke 2013 Tutorial:
3 Point & 4 Point Editing


Smoke 2013 Tutorial:
Moving Clips in the Sequence


Smoke 2013 Tutorial:
Working With Sync


Smoke 2013 Tutorial:
Splice, Extract, Sub-Clipping

Smoke 2013 Tutorial:
Trimming
When the pre-trial (and later full versions) are avaliable you'll already have the know-how from these useful Smoke 2013 tutorial videos.