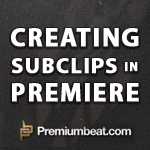 Premiere Tip! How to Create Subclips in Adobe Premiere
Use subclips in Adobe Premiere Pro to pull selects and better organize your projects!
It's often best to break your footage up into smaller clips so you can organize, and then locate, specific shots in your project.  This is especially true for interviews, where you may need to locate a specific quote quickly without any visual cues to find the shot.   This is where subclips in Adobe Premiere Pro come in!
While you could set In and Out points and then drop those parts on to the timeline this isn't the most efficient way way to work.  Instead, work through your footage, breaking each clip down into smaller subclips.  Assign each subclip a unique name that makes it more easily identifiable in the project.  For example, the footage in the below clip is called 'Lakes_Animals' which is ok, but there are several animals in this clip.  When breaking this clip out into smaller subclips, it would be best if I gave each subclip a name that appropriately represents the animal (or insect) in that particular shot.
So how do I do create subclips in Adobe Premiere Pro?
First, double click the footage in Premiere to open it in the Source Monitor. Set an In point and an Out point for the piece you want to subclip out.
Source Monitor with In & Out points
Once you have your In and Out points set out there are several ways to create your sub-clip.
Click on the 'Clip' menu and choose the second option 'Make Subclip…'.
Right click the Source Monitor and choose 'Make Subclip…' from about a third of the way down.
Hold the Control key on a PC or the Command key on a Mac and drag the clip to the Project Panel.  You will get this option:
Subclip renaming option
Make sure you use this to give the subclip a name that actually means something to you!   For example, if it were part of a long interview, use a title to express what the subject was saying.  This makes it more easily searchable for when you want to find it and add it to the timeline later.  Searchability is key!
Re-named Sub-clip & Original Clip with In & Out Points Removed
Have any Adobe Premiere Pro workflow tips to share?
We want to hear from you in the comments!