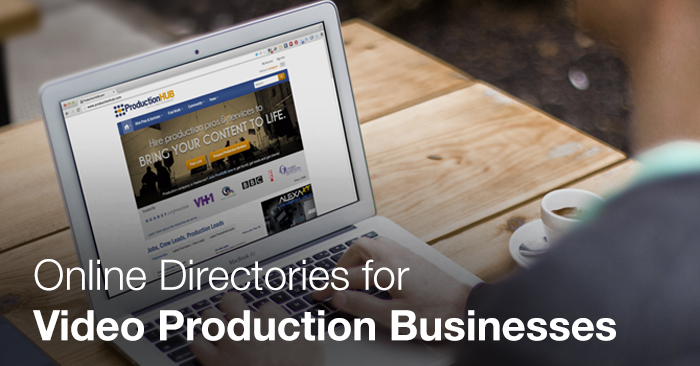 Submit Your Business to These Video Production Directories
Want to increase the visibility of your video production business? Here's the top video/film directories you should be listed in.
Having a website for your film or video production business is not only recommended, it's a necessity. But don't stop there. Expand your web presence by including your video production company in popular online film and video company directories.
In this post, we've rounded up the most popular online directories for film, video and television – most of which you can be included in for free. Are there any that should have made our list but didn't? Include suggestions for websites, as well as your own business marketing tips, in the comments below.
In addition to potential clients/employers finding your business in these directories, including links to your own site in these listings has reciprocal visibility benefits. Google tends to reward websites that are linked from pages covering similar topics. For example, by including your business URL in a film directory, the search engines may greater associate your site with film and video. This can lead to better placement when someone looks for your business (or business type) in a search engine.
Now, onto the directories and websites…
Mandy.com is the longest running film and video production job/project site on the Internet. Started in 1995, it's a go-to site for production companies to post jobs and projects. Additionally, Mandy has a geographically searchable directory of professional video production companies.
A basic company listing on Mandy is free, although they do offer a few paid options for better placement and visibility.
Like Mandy, ProductionHub is an online directory of worldwide video and film production companies, equipment rental houses and post-production/video editing services. A basic profile on ProductionHub is free of charge, with paid options to access more features and gain great visibility.
The ProductionHub profile interface allows you to include all contact information, video samples of your work, client list and a description of the work you do. The site makes it simple to create 'contact lists', so you can make lists of companies for different projects/locations.
LinkedIn isn't just for your individual professional profile…you should also make a LinkedIn page for your company. Many business professionals use LinkedIn as a source for finding vendors and partners.
Once you've created a LinkedIn page for your business, add your latest content and projects. Use it as a sounding box to show the world what your company has been up to (you can add videos). Have your employees add your company profile to their own pages and encourage them to engage with your content (important for building your presence on the site).
Get the details on creating a LinkedIn company page here.
By uploading  your company demo reel or sample work to Vimeo you'll kill a few birds with one stone. Try these tips for marketing your video business on Vimeo:
You can embed the Vimeo video on your company's website – ad free. The embeds come with analytics, so you'll easily be able to see how many times your video has been loaded or played.
Use Vimeo to expose your work to other creative pros. When others see your work on Vimeo they may identify you as someone they'd like to work with – or vice versa.
Vimeo is easily searchable. So, it's important to include 'keyword' search terms in your video descriptions such as the type of project (corporate video, commercial, film trailer, etc), as well as the location of your video business (ex. "Los Angeles, California video production"). By including these terms there's a greater chance your work will be found by those looking to hire. Additionally, include your company website in the video description.
Include your contact information in your Vimeo profile – a link to your website, your phone number and email. Additionally it's helpful to include something like "Available for freelance & contract work" in your profile so others know you're interested in taking on outside projects.
Behance is an online platform for showcasing creative work and inspiration. Although it's primarily used by photographers, graphic designers and art directors, it shouldn't be overlooked by video pros. There's a section specifically dedicated to Motion Designers.
As someone who's personally employed talent I've found through Behance, I can attest that it's a valuable resource for increasing the visibility of your professional work. Add your website and social network pages to your Behance profile so others can easily contact and follow you.
Variety, the weekly entertainment trade magazine, also has a web directory of film and video production companies. The majority of Variety411 is geared toward the high-end film and TV business (not a lot of corporate video here) – with a bent toward LA and NYC markets. There is a cost associated with being listed.
Every major company type in the US film/video/TV business is represented, including equipment and stage rentals.
You may be familiar with Wistia, an online video hosting and analytics company, but you may not know they also have an online database of professional video companies – 50Grove. The company listings can be sorted by types of video (testimonial, product, training, etc), as well as average production cost.
Keep an eye on this one – 50Grove is invite only but at this time they don't appear to be actively adding new listings.
Local Film Commissions & Directories
The 'net is full of databases of geo-targeted film and video production company lists and resources. It'd be worthwhile to do a quick web search to see if there are any local company directories for your state/city. We've pulled a few and included them here…
Reel Directory – Northern California
NW Production Index – Pacific Northwest
Tennessee Film, Entertainment and Music Commission
Georgia Film and TV Sourcebook