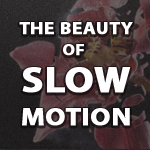 The Beauty of Slow Motion: High Speed Shooting + Motion Control
High-speed Phantom camera shooting gets combined with state-of-the art motion control to create stunning visual effects.
Not able to acheive the high-end effects they wanted for their high speed shooting, German special effects company The Marmalde set out to build a cutting edge motion control system.  The result is SPIKE, a high speed motion control device that operates more like a cutting edge robot than a piece of production gear.  SPIKE was designed to be used specifically with the Phantom camera, shooting gorgeous slow motion shots at up 1000 frames a second.
In the following video, go behind-the-scenes at The Marmalade and learn how SPIKE operates, what it takes to create complex high speed shots and see examples of their gorgeous video work (best viewed in HQ):
By programming the motion speed and position coordinates into SPIKE's computer, high speed camera moves are combined with the incredible slow motion shooting of the Phantom.  This gives The Marmalade the ability to create moves that previously were only possible with animation.
The results are pretty spectacular, don't you think?
Let us know what you think in the comments!