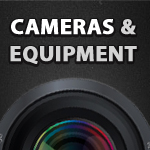 The Must-Have Lighting Kit for Shooting Interviews
This tutorial by video pro Caleb Pike showcases an inexpensive dual light setup, his favorite tool for lighting interviews.
When Caleb Pike from DSLRVideoShooter has a recommendation, we listen. In the following video he shows off a simple homemade lighting rig that's both affordable, versatile and easy to use.
Utilizing a C-Stand with a double (or triple) header bar you can mount two lights on the same stand. This makes for a quick setup that's easy to adjust position. Caleb them mounts a silk in front of the lights (which in the case of the tutorial is an inexpensive light reflector). He estimates cost of the whole setup between $300 and $800 depending on the lights you choose to use.
The tutorial finishes out with Caleb showing a few interview examples that were shot using this lighting setup (even light that really makes the subjects 'pop').
Thanks for sharing your lighting setup, Caleb!