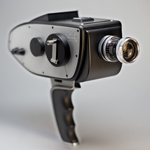 The Year of the Digital Bolex: Specs and Speculation
The professional video market is abuzz with the upcoming release of the Digital Bolex camera. Could this be the video production product of the year?
At every NAB Show there's always a product or two that captivates the pro video attendees. In 2012 Blackmagic Design dropped a huge bomb when they announced the Blackmagic Cinema Camera – 2.5K resolution video for $3k.  2011 was the big announcement of Final Cut Pro X.  2010 showcased the Arri Alexa.  So, what's going to be the big NAB announcement of 2013?
At the SXSW conference in March of 2012 the Digital Bolex camera was announced, but at the time it was only a concept. After blowing their Kickstarter campaign out of the water ($262k was raised, more than twice their $100k goal), the team behind the product has had a busy year since then. Fast forward to this year's SXSW show and they were showing off a prototype of the cam.  As we mentioned in an earlier post, Digital Bolex will be taking this model to the 2013 NAB show. So, will this be the 'product of the year'?
Evolution of the Digital Bolex D16 Design
For those new to the Digital Bolex D16, let's talk a little about the cam's specs. It'll shoot 2K of RAW (CinemaDNG format) video in 16mm mode and will be affordably priced at around $3000 (for more info on the Digital Bolex RAW workflow see this post at NoFilmSchool). It's styling comes as an homage to the traditional Bolex film cameras of the past. The camera will begin shipping this quarter (to those who preordered) and should be more widely avaliable by the end of the year.
Since it's intial announcement the team has been busy adding features and updates to the design, based largely on feedback from the pro video community. 100+ changes have been made to the product design in that time and can be found in full here.
Digital Bolex D16 Finished Body
The battery life for the cam was initially a paltry 2 hours, so it's nice to know that one update has been doubling of the battery life to 4 hours. Even with the extended battery life, an internal battery may be a bit worrisome for some pro users that require longer shoot times.
The D16 looks like an interesting choice for the independent filmmaker. So, we're curious. Can you see using the Digital Bolex D16 camera in your pro video production work? Share your thoughts in the comments below.
Are you a specs junkie? Here are the D16 specs from the Digital Bolex site:
| | |
| --- | --- |
| Resolution | 2336 x 1752 (4×3) 2048 x 1152 (Super 16mm mode) + 1920 x 1080 pixels (16mm mode) 1280×720 (720p mode) 720×480 (480p mode) |
| Format | Adobe Cinema DNG (RAW), TIFF, JPEG image sequences, at all resolutions |
| Colour depth | 12 bit – 4:4:4 |
| File size | 2 to 3 MB per frame in RAW |
| Sensor | Kodak CCD: 12.85 mm (H) x 9.64 mm (V) – Similar to Super 16mm |
| Pixel Size | 5.5 micron (compared to the 4.3 micron size of many DSLRs) |
| Framerate | up to 32 fps at 2K, 60fps at 720p, 90 fps at 480p |
| Sound | Balanced, 2 channel via XLR (includes phantom power) |
| Video out | 1920×1080 via mini-HDMI or 640 x 480 B&W via ⅛" video jack (HD-SDI available in separate unit) |
| Ports | ⅛" video, headphone, USB 3.0, Audio XLR (2), 4-PIN XLR, mini-HDMI |
| Data Storage | Dual CF card slots, SSD (buffer drive) |
| Power | Internal battery, 12V External via 4 pin XLR port, 12V DC output |
| Body | Magnesium alloy and hard plastic |
| Lens mount | C-mount comes standard; Optional PL, EF, B4. M, Micro 4/3, turret in development. |
| ISO Options | 100, 200, 400 |
| Dynamic Range | 12 stops |
| Also in the box | pistol grip, USB 3.0 cable, internal battery, 4 pin XLR battery cable, video cable, transcoder/raw conversion software |