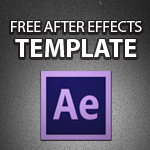 Tilt-Shift: Free After Effects Template
Our friends at MotionArray.com are giving away a tilt-shift effect FREE template for After Effects!
Tilt-shift, when done by a skilled hand, can be a really impressive effect.  In the last few years, with the proliferation of DSLRs, we're seeing tilt-shift video effects pop up more and more.  For high quality examples of tilt-shift videos check out our previous post on 12 Exceptional Tilt-Shift Videos.
For those unfamiliar, tilt-shift is a photo/video effect that gives scenes the appearance of miniaturization through selective focus (created by specialized lenses, post-production focusing or a combination).  For more on the history and technical aspects of tilt-shift check out this Wikipedia entry.
So, how can you create a Tilt-Shift effect?  For After Effects users, a new template by MotionArray.com gives you the tools to create this effect easily.  The FREE After Effects template provides modifiable parameters to customize the effect for your project – blur, rotation and amount.
Check out the video below to see an example of this free After Effects template in action or head on over to MotionArray.com to get the template file!  *Note: You will need to sign up for the MotionArray email list to access the free files.