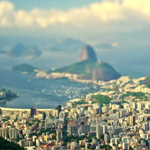 Inspiration! Roundup of 12 Exceptional Tilt-Shift Videos
The City of Samba
by Jarbas Agnelli – This video of Carvanale in Rio de Janeiro uses tilt-shift to extraordinary effect.  Tilt-shift was achieved primarily in-camera using Nikon D3 bodies with large format lenses on bellows.
A Tiny Day in the Jackson Hole Backcountry
by Tristan Greszko  – This breathtaking miniature look at backwoods skiers was shot on the Canon 5D and 7D.  The tilt-shift effect was applied to each video frame in Photoshop and the project was finished out in After Effects and FCP.
MiniLook Kiev
by threeshot – Over 4,500 frames (from the 25k that were shot) make up this miniature perspective of the city of Kiev.  Beautiful saturated colors and camera movement make for an engrossing watch.
Small World Energy
by Niles Heckman – This mesmerizing public service announcement applies the tilt-shift effect to visuals of the energy industry.
Small Worlds
by Keith Loutit – Keith is one of the masters of tilt-shift photography and this stunning video is a great example why.  This short highlights video showcases a variety of locations and events in vibrant colors.
Toy Soldiers
by Alta Media Productions – This captivating video miniaturizes marching troops through the streets of Paris.  Canon 5D's captured the action at a slow 3.9 frames per second.
The Village
by Flicka Mag – Unlike many of the urban focused videos in this roundup, The Village beautifully emphasizes the visuals of rural living.
NEW YORK
by Black Sheep Films – See all of New York City's iconic sites like never before in this but this wonderfully executed tilt-shift video.  Shot on Canon T2i and posted in After Effects.
Coachelletta
by Sam O'Hare – Commercial director Sam O'Hare created this compelling look at the Coachella Music Festival.  Footage was shot at 4 fps and the tilt-shift depth of field was achieved in post.
Tilt Shift Surf
by DOUGH'NUT – Early morning surfing off the coast of the Netherlands. Excellent color grade!
Everyone Is A Little Universe
by MovieBrats – Take a trip across America in this lovely tilt-shift video. Comprised of over 3 months worth of shooting with the tilt-shift effect applied completely in post-production.
Toy Thailand
by Joerg Daiber – An interesting perspective on the sites of Thailand.  Shot on the Lumix GH2 and posted in Final Cut Pro and After Effects.