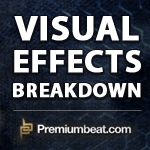 Video Inspiration! An Incredible Visual Effects Breakdown
Go behind-the scenes to see how this high-tech, physically demanding television commercial was created.  Using professional visual effects tools like Maya, Houdini, V-Ray, Nuke, Flame, a virtual world was built in post.
You may have seen the ads for 5 Gum – you know, a human entering a world where their senses are exploding from all that intense gum flavor.  Although the ads are always a visual delight, it would be past most viewers to consider the time and effort that it takes to pull them off.  The following video takes you behind the scenes of a full-tilt commercial shoot for one of the newest ads in this campaign.
Directed by Hollywood legend Jon Favreau (Iron Man, Cowboys & Aliens, Swingers!).  This spot has some incredible special effects…and the accompanying vfx breakdown video demonstrates the intense post-production work necessary to pull them off.  Let's first take a look at the original commercial spot:
Art Director Kevin Lau notes that the spot was created using the top post production visual effects applications including Maya, Houdini, V-Ray, Nuke and Flame.  One can only imagine the incredible keying and rotoscoping that must have been necessary to fabricate this seamless virtual world.  Now, see for yourself how the spot was created in this very cool visual effects breakdown video: