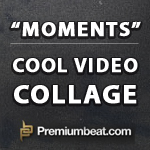 Moments: A Unique Video Collage Project
Different video images shot at the same location, but at slightly different angles, are joined together to create a larger video collage – an inspiring project!
A 'photo joiner' is an artistic approach of combining multiple photographic viewpoints of a single subject.  First popularized by photographer David Hockney in the earlier 1980's, joiner photography is a unique approach to photo collage.  Here's one of Hockney's photo joiners:
So what if you applied this same photo collage style to video?  Inspired by Hockney's photo work, Vimeo user Ian Gamester has just done that…and to impressive effect.  Chronicling different 'moments' of his life over several years, Gamester gathered enough footage to create a innovative series of video collages.  He explains the process, "I shoot 10 seconds of one shot. Stop recording, adjust the shot, shoot another ten seconds, repeat until you have enough shots to piece together the whole image."
This video project serves as creative inspiration for anyone interested in video production, post or photography.  Challenge your ways of thinking about the medium in which you work.  Break free of traditional approaches and create something great!
Best watched full screen:
To learn more about joiner photography and see examples of unique photo work, visit JoinerPhotography.com