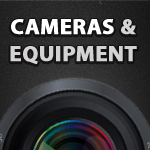 Video Production Tip: Tracking Shots with a Tripod or Monopod
This technique for getting smooth tracking shots is perfect for the videographer or filmmaker on-the-go.
Creating smooth tracking shots often means that you'll need access to a jib or slider – both pieces of equipment that are bulky and expensive.  As an alternative, these quick tips from one of our favorite DSLR and filmmaking sites FENCHEL & JANISCH shows you how to pull off a smooth tracking shot with less.
The following quick tutorials give tips for getting polished shots using only a monopod or tripod.  If you're in a bind or on the move this technique should do the trick!
See Fenchel & Janisch featured in our previous post: "10 Filmmaking Sites You Should Be Reading"
Tracking Shots with a Tripod
Tracking Shots with a Monopod