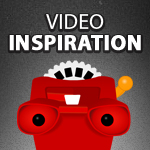 View-Master Inspiration: Video Gallery, Tutorial and Templates
In this post we celebrate the vintage View-Master, showcasing several projects that use a Viewmaster theme.  You'll also learn how to create a Viewmaster effect in your own video projects.
Remember the View-Master?  The popular toy was an iconic image of the 70s and 80s, as anyone who grew up during that time can likely testify to owning one.  Cardboard discs containing stereoscopic (3D) images were placed in the Viewmaster and gave the effect of a unique 3D slideshow.
With analog style images en vogue (see: Instagram) it's not surprising that a number of recent video projects have utilized the View-Master as an effect style.  In this post we've picked a few recent examples of such projects to provide inspiration for your own creative projects.
Then, at the end of the post, we share two resources for creating your own View-Master video effect – a video tutorial showing you how to mimic the effect in the Final Cut Pro X video editing application and a template you can purchase to pull off this look in Adobe After Effects.
Get nostalgic and check out these Viewmaster projects and templates.
LA Sunshine from Kai Cuts:
Genre Viewmaster bumper from Patrick Dias:
Oorzaak & Gevolg from Edwin Haverkamp:
Reel-Viewer from cchristians:
Viewmaster from Adam Bomb:
Fortis Bank Nederland Viewmaster from Marije de Graaff :
Viewmaster from DickieHD:
Viewmaster from alexdemora:
BIO – TV Families from Craig Colthorp:
Holiday Snaps from Jack Adams:
Create A View-Master Effect
This post by video editor Dylan Higginbotham shows you how to create the View-Master effect in the video editing application Final Cut Pro X.  Using the plugins he created for his site Stupid Raisans, Dylan is able to quickly mimic the vintage View-Master effect in FCPX using transitions and matte templates.   Download the Slide Pop effects pack for $49 from Stupid Raisins.
If you're more of an After Effects wiz, this template offers a very cool View-Master style effect from TemplateDigital.com.  Showcase images, video or text.  It even includes a slick View-Master style menu screen.  Download from TemplateDigital.