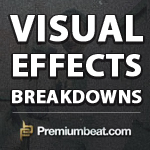 3 Cool VFX Breakdown Videos
The following breakdown videos reveal how unique visual effects were created using leading post-production tools like 3Ds Max, After Effects & Nuke.
We're suckers for visual effects breakdowns, cool videos that  reveal the behind-the-scenes work that goes into creating unique film and video effects.  The following VFX breakdown videos show the compositing, color correcting and camera mapping techniques that were used to create a polished finished project.  Even if you're not a video editor, motion designer or effects compositor, you'll likely appreciate all the work that goes into "making the shot".
Book Trailer Visual Effects Breakdown
Editor Dennis Harris shares the visual effects work he did for a book trailer entitled "Can You Hear the Music?"  The compositing effects were created using Adobe Photoshop and After Effects and the final video was cut in Final Cut Pro.  Dynamic color grading is used to enhance the mood of the shots.  Great effects work, especially the burning building!  Have a look:
Short Film Visual Effects Breakdown
The short film "Brush with Dead" is a viral video hit, already garnering over 2 million views!  The big draw for the film is the unique visual effects shots where painted silhouettes spring to life.  Pulling off the effect was no easy task, as you'll see in this behind-the-scenes VFX breakdown.  The creators Sam & Niko walk you through their camera mapping and tracking techniques using 3Ds Max and After Effects.   Follow them on twitter @CorridorDigital
Commercial Visual Effects Breakdown
Visual effects supervisor and compositor Darren Coombes creates a mid-19th century environment using The Foundry's Nuke, a professional compositing application.  What's most interesting about this VFX breakdown is how it showcases both the production and post that goes into creating a high-end commercial (especially one that's period specific).  See how they got the shots and then watch the final commercial product: