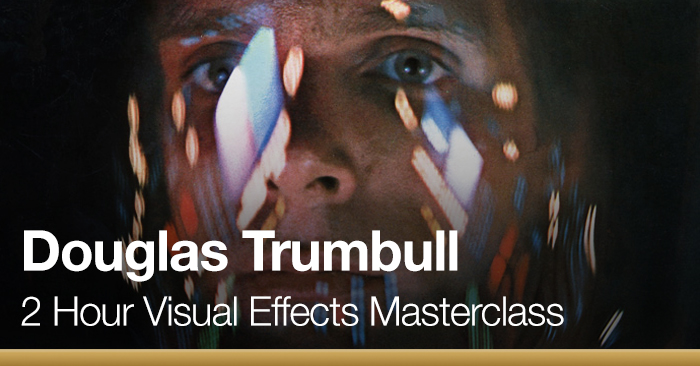 2 Hour VFX Masterclass with Douglas Trumbull
VFX Masterclass with the visual effects legend behind 2001: Space Odyssey, Close Encounters of the Third Kind, Blade Runner and many more.
In this superb two hour masterclass, visual effects legend Douglas Trumbull walks through his entire career including:
"Firsthand accounts of working with director Stanley Kubrick and conceptualizing special effects which are today considered the defining breakthrough of the medium. Other topics included: the history of widescreen cinema – from Cinerama to today's IMAX, Trumbull's work with motion-simulation rides, and the current state of digital special effects and Trumbull's own involvement with these innovations."
This masterclass was filmed at a Higher Learning event at TIFF Bell Lightbox.
The History and Science of 2001's Slit Scan Effect
Additionally, we wanted to share this fun video from Filmmaker IQ where John Hess walks through the science and history of how Douglas Trumbull pulled off the stargate effect for director Stanley Kubrick. The video wraps up with a recreation of the effect using a DIY Lego gear setup!