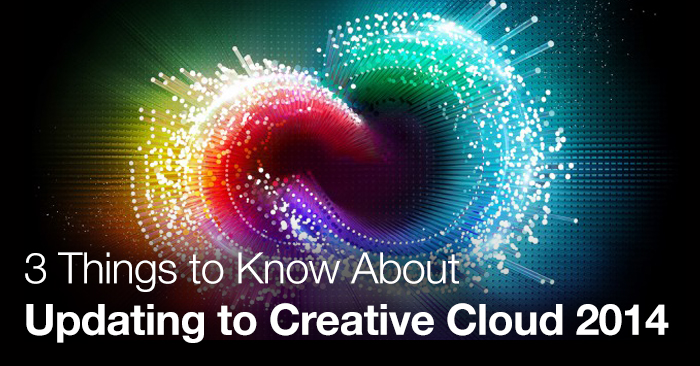 3 Things to Know About Updating to Creative Cloud 2014
Updating to Creative Cloud 2014? We've pinpointed three changes to this new version, including how the apps are installed and a possible error that prevents programs from starting.
The latest release of Adobe's Creative Cloud 2014 suite of applications is packed full of great new features, bug fixes and all the improvements you hope for in a major new update. If you have a Creative Cloud membership then these kind of large scale, regular updates are why you're paying that monthly fee! But there are a few things you might want to know while you're excitedly waiting for all your apps to update…
Creative Cloud 2014 – A Whole New Installation
One of the first things you'll notice is that a lot more of your hard drive space has disappeared. That's because the Adobe Creative Cloud 2014 update installs next to your currently installed Adobe Creative Cloud CC versions, rather than on top of them. It's a whole new installation rather than a traditional cloud update. This is of course very useful if you're in the middle of a project and want the security of knowing that everything will work as it was before. Note: You shouldn't really be updating your software in the middle of a project!  The downside is that you'll have twice the number of applications installed taking up twice the space. You will also need to drag the new 2014 icons to your dock.
That said this way you can have the best of both worlds – the latest features, and the security of knowing your software will still work. The official Adobe blog has some useful advice about making sure your custom plugins work in both installations.
Applications Won't Start?
"fixing permissions problem on Mac OS that impedes start of Adobe applications": http://t.co/iaKFEMQsOL

— Todd Kopriva AE (@ToddKopriva_AE) June 22, 2014
I noticed on Twitter a few people sharing a link to this Adobe blog post from Todd Kopriva with a recent bug wherein some applications are taking a long time to start or are failing to launch at all because the permissions for the Adobe Preferences folder's have not been set correctly. If you're having this particular problem then it's a simple fix of setting the entire folder to have both read and write permissions, which Todd takes you through here.
FLV Presets Are Gone
If you're frequently creating FLV files (Flash video) for your clients in Adobe Media Encoder, then you'll soon notice that you are no longer able to export FLV or F4V files from Adobe Media Encoder CC 2014, Premiere Pro CC 2014 or After Effects CC 2014. In another blog post from Todd Kopriva you can get the full story, which essentially boils down to FLV and F4V files being rather outdated:
We removed the exporters for FLV and F4V files from the Adobe video applications (Adobe Media Encoder, After Effects, and Premiere Pro) because maintaining these obsolete exporters was a large amount of work, and we could better spend that effort on developing new features and fixing bugs in areas that are used by more people.
So what are you supposed to do if you still need to supply FLV files to your clients? Well that's why the side-by-side installation of the Creative Cloud apps is handy after all. Simply keep the Adobe Media Encoder CC version installed and you'll be able to export FLV and F4V files as much as you need. Or you could tell your clients that the Adobe Flash Team recommend that they play video files in Flash as H.264 MP4 files anyway…
One Last Thing…
If you're not a fan of the new Adobe Premiere splash screen then thanks to this tweet from Bart Walczak you can change it to your hearts content. To find the particular .png file that Adobe uses when the program is loading, go to your Applications folder, right click on the Premiere Pro application and select 'show package contents', then navigate the following file path:
Applications> Adobe Premiere Pro CC 2014 > Adobe Premiere Pro CC 2014 [show package contents] > Contents > Frameworks > Frontend.framework > Versions > A > Resources > png > pr_splash.png
If you wanted to you could replace the pr_splash.png file used in the 2014 update with the one used in the CC version, but that might get confusing! Plus your loading text will be in the wrong place. But you could just Photoshop the top part of the new image and replace those crazy colours with something less 'busy'.
Got ya! @MaciekKaliski @JBowdacious @AdobePremiere pic.twitter.com/9755Ow9kUT

— Bart Walczak (@bart_hema) June 24, 2014