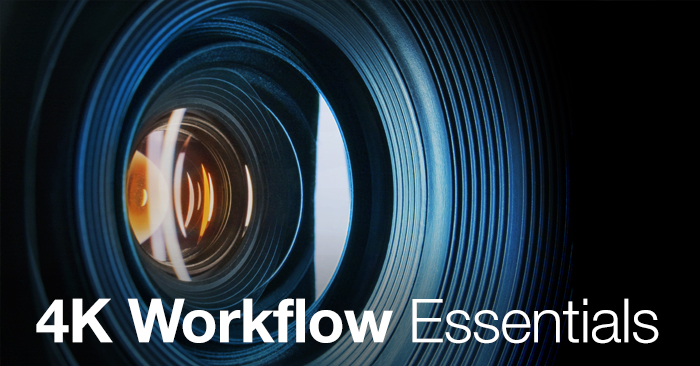 Taking on a 4k video workflow for the first time? Here are some essential things that you need to know.
If you're about to move to a 4K workflow for the first time, there are a few things that you really need to consider for a smooth transition. How will you shoot, store, edit, monitor, deliver and distribute your 4K material? All of these things require a different approach with 4K.  These resources should help answer your 4K workflow questions.
In the passionately delivered 45 minute seminar above, from BVE 2014, editor and trainer Larry Jordan talks through many of the technical, financial and creative considerations of moving to a 4K centric workflow. If you're after a one hit primer on 4K this is an excellent start.
4K Questions and Answers
Another recent webinar sponsored NVIDA and Dell (and hosted by tech experts from Dawnrunner Productions) discussed the many benefits of using 4K now. You can give away your details and watch a replay of the webinar here, or you can head over to Pro Video Coalition to check out the numerous questions and answers that the guys didn't get a chance to answer in the webinar itself.
What are the most common workflow pain points when selecting to work in 4K or 4K RAW? There are some different things to think about when shooting 4K. Many people working with HD footage are used to working in a online-edit environment (editing with the camera original files directly). While this is possible today with fast computers, we have started making the first step of our post process a one-light color correction since the footage is raw. From there we can edit the graded footage in 4K or even create proxies for our editors.

Finalizing, doing VFX, and delivering are pretty much the same, but we've found that it's these first steps that have changed a lot in our workflow and may be something that you need to get used to. We had to relearn how to estimate our post production schedule to accomodate these changes so that we could accurately communicate a time scale to our clients.
Understanding 4K Data Rates
Andy Shipsides from Abelcine posted this detailed article over on 4K Hub, on the various considerations for choosing a 4K RAW, Video or Proxy workflow. In the chart above Andy demonstrates the different data rates and storage implications for shooting 4K in various codecs. The two lines in red are popular HD flavours for comparison. If you're a shooter looking to implement a 4K workflow, it's well worth a read.
Both the Sony F5/F55 and the new Panasonic VariCam cameras offer the ability to record in 4K (video or Raw) and HD at the same time. The F5/F55 can record in their XAVC 4k format with a MPEG2 422 HD proxy recording simultaneously (image below). The VariCam takes that a step further, giving you AVC-Ultra 4K on one card, AVC-Intra HD (422 HD video) on another, and even a third very small low-resolution recording for sharing over the internet. The HD proxy formats are good editing formats, and meet the standards for broadcast.  In addition, the proxy recordings have the same file names as their 4K counterparts, so they can be easily matched back after editing. 
A 4K Offline – Online Workflow
In this excellent workflow write up, Oliver Peter's shares how he uses Avid Media Composer, DaVinci Resolve and FCPX to perform an offline-online 4K workflow with RED footage. Although you could perform the entire process in FCPX, Oliver prefers to adhere to a 'traditional' offline-online workflow, which also enables him to make the most of Avid Media Composer's offline toolset. After a colour grade in the full version of DaVinci Resolve (the Lite version only allows for HD output) he online's his 4K final master in FCPX. Check it out here.
In this short video Bob Russo from Avid demonstrates how to perform a similar process, but making use of the Avid ISIS shared storage along the way: