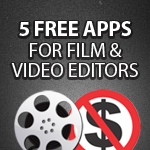 5 Free Apps Film & Video Editors Shouldn't Live Without
Check out these 5 amazing programs that can enhance your post production workflow but won't cost you a penny.
As a freelance editor I'm often working from a variety of different edit suites and most of the time if these programs aren't installed when I get there, they will be by the time I leave.  The following are 5 amazing programs that are not only 100% FREE but also worth their weight in gold in the amount of time and effort they can save you.
MPEG Stream Clip
MPEG Streamclip is without doubt one of my favourite transcoding programs. It does a bang up job of taking most files and formats and converting it into something useful that you can actually edit with. Best of all you can very easily set up batch transcodes and it is incredibly robust at just churning through your files. I've set huge batch lists going over night and never had a single one fail. Download it free from www.squared5.com today!
For a quick tutorial on transcoding material in MPEG Streamclip check out this previous post on Premiumbeat. One quick word of warning – MPEG Streamclip doesn't have a timecode pull through and doesn't preserve reel names, so these will be stripped from any files you create.
Speed Tip – Use the I and O keys to set In and Out points.  Then while your clip is exporting feel free to keep playing in your video to find your next subclip. This is especially useful if you're clipping a clients DVD to make a sizzle reel and time is of the essence.
5DRGB AVC/H.264 Transcoding
5DRGB has been around for a long time and has become a firm favourite among many DSLR shooters because it arguably creates a better looking image by bypassing Quicktime all together when transcoding your AVC and H.264 footage. Further benefits are that it will pull through timecode in the original files or add it from the .THM files.It is also 64-bit and will make the most of your Open-GL video card.  All this makes for faster transcoding.
For a view of a workflow using 5DtoRGB 1.5 with Avid Media Composer 6 check out Jason Myres H.264 to DNxHD tutorial. For a thorough overview of its features and using 5DtoRGB with Adobe Premiere Pro check out this excellent tutorial from Chris Marino (below). The original 5DtoRGB is still free (the lite version) – the Batch version is $50 from the App Store and will do batch processing. Download the free version from Rarevision's site.
Flashgot – Firefox Plugin
Flashgot is my favorite 'media downloader' plugin which essentially allows for 1 click ripping from a client's site. "Can you grab a clip from last year's presentation – we don't have the files anymore." Sure.
Flashgot only works with Firefox and I'm sure there are tons of other plugins that essentially do the same thing but this is my favourite because it never fails. Open up the page you want to download from, start the file playing and then click the little flashing filmstrip icon and it will start downloading. Roberts your mother's brother.
iextractmp3
Once you've gotten your web file downloaded you could use MPEG StreamClip to export the audio/video but I often use iextractmp3 as a simple drag and drop audio ripper.
Essentially it is an incredibly simple program that will extract the audio from an FLV file (like an YouTube file) which you can then do what you like with.
Adaptor
Adaptor does pretty much what all the other apps do, rolled into one. It will download your files from the net and also transcode them. It has a slick looking interface and comes with a variety of presets to make life easier.
Adaptor also does batches, will give you a file size estimation and can export your files direct to an iTunes playlist for easy syncing with your iPhone or iPad (might be useful for producers who want ipad dailies?)
What free apps are essential in your video and film editing toolkit?
Share in the comments below!