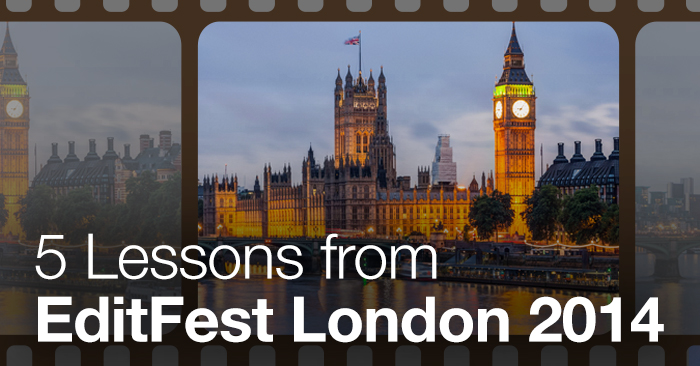 5 Lessons From EditFest London
Each year some of the world's leading editors gather for EditFest London. Here's the key lessons we took away from the 2014 event!
I was fortunate enough to make it along to Edit Fest London 2014 (and the AOTG Pub Night afterwards) and more than just being an exceptional day of inspirational post production craft geekery, it was also an opportunity to learn a lot. It's not every day you get to be in the same room as the editors of Super 8, Game of Thrones, Harry Potter, Billy Elliot, Monster's Inc, Lost and American History X, to name just a few.
The following 5 ideas are some of the key lessons I took away from the day, which I hope will prove to be useful to you in the pursuit of your dream post-production career.
Lesson 1 – How to Get a Break
"Most of my breaks came from people either being ill, or people seeing something and giving me an opportunity. It's about even." – Editor, Mark Everson
One of the most striking things throughout the day, whether in the panel discussions or in the conversations over wine afterwards, was the constant repetition of the following formula in how people got their break into the industry:
Relationship + Opportunity = Break 
Relationships are the foundation of how the film industry works. It's all about who you know, not what you know. And the relationships really don't have to be very strong. An unsolicited email to the right person begins a relationship. A friend of a friend knows someone and that creates an introduction. A producer hears of you from another crew member, etc. etc. All of this is obvious, but if you're not building new relationships, you're reducing the potential for opportunities to arise.
The more relationships you have the more chances there are for an opportunity – a window into a new job, a new role and a new future – to present itself. And once an opportunity does present itself and you take the risk of seizing it, then you'll get your break. There is one extra ingredient that isn't in my three part formula and that is preparation. The more prepared – pre-trained, pre-equipped, pre-disposed to risk taking you are, the more those opportunities will look like opportunities to you.
So while you're waiting for an opportunity to present itself, be doing all you can do to prepare yourself to be ready to seize it when it does.
Lesson 2 – Networking
#EditFestLondon The best advice for EditFest: Bring lots and lots of business cards! Networking is the best thing. pic.twitter.com/WXhEAu6avW

— ExcitedFrames (@ExcitedFrames) June 21, 2014
The Edit Fest tour is one of the best opportunities I know of to meet some of the world's top film and TV editors, and their assistants, face-to-face. It's also a brilliant opportunity to meet a room full of other editors and assistants who might not be on the panel, but are working just as hard in their own spheres. At Edit Fest it's all the 'bits in between' that are just as valuable as the panels and discussions. But it can be a challenge in a room full of people to get up the courage to go and chat to someone you don't know.
But it's worth it when you do, because you soon find they are friendly, kind, approachable people who are quite happy to share their journey in the world of post-production. The secret to good networking, as I've tried to say in my ebook on being a freelance creative, is to be 'not-working'. Not trying to hard to extract anything from the other person, or to get them to give you some golden opportunity. The best approach is to simply be interested in them and ask lots of questions.  Then at some moment that feels right in the conversation, say you'd like to keep in touch and offer them your business card (you have some of those right?).
Lesson 3 – Create Community
Another interesting lesson I took away from Edit Fest London, was how, in London at least, there is a real desire for a thriving community of post production professionals. It was great to meet so many people who had travelled from other countries just to make it to the day, as well as plenty of locals who live and work in London all year round.
But community can only be built in as a collective. Sometimes it takes a few people to get the ball rolling, but it takes all of us to do our part to keep it growing. So my advice would be – get out to events in your local city, and if there aren't any, try to put on a pub night or to yourself and get something started. Not only will you make loads of new relationships, you'll also be doing something to benefit others, and in that scenario, everybody wins.
Lesson 4 – The Only Way to Learn
"The only way to learn is to be in the cutting room and learn by osmosis. There is no short cut to a first cut. It's an evolutionary process, and you have to be there to see it evolve." – Mark Day
If there is one lesson that we can all apply today it is this: cut and cut a lot. The more you edit, the more you will grow as an editor and the more you'll discover the solutions to the unique challenges that every project presents. The second lesson to apply would be to try to get yourself into the cutting room of editors who are ahead of you and see how they do what they do. Being at events like Edit Fest is a prime way to meet those editors, try to stay in touch with them and see if you can get some work experience in their suites.
Lesson 5 – Do Your Best Work in Every Edit
A great part of the panel discussion format of Edit Fest, is seeing clips from the films that the editors have worked on and hearing them talk about it. It's also a unique way to watch a scene, partly because you're watching it at a day all about editing and so you are intensely focused on thinking about the construction of the scene, when the cuts happen and how they happen.
But when Mary Jo Markey, editor of J.J. Abram's Super 8, showed us the clip from the scene that directly precedes the one in the video clip above, I merely got lost in the storytelling. It is a brilliant scene in which the Super 8 film crew arrive at the train station and prepare to shoot a scene of their own between their film's two leads. What I loved about this scene, was the expertise Mary demonstrated in dancing delicately between a wide range of very real emotions – humor, sadness, humor, romance, tension, humor and excitement, all within a few short beats. It is a very polished scene that demonstrates a tremendous knowledge of the craft of film editing.
Later on the in day Mary said "I think the work speaks for itself. Do good work. Do your best and have ambition with your work, and let that speak for you."
If you want to be improving and progressing as an editor, try your best, give your best and go above and beyond the call of duty as often as you can. Your work will speak for itself. And in doing so you'll be propelling yourself towards becoming truly excellent at your craft. Give it your best shot.
Last Year at Edit Fest
If all of this isn't enough for you then check out these previous posts on Edit Fest days from around the world:
Edit Fest LA (2013) – The View From The Internet
Quotes and Comments from Edit Fest LA
Secrets from the Edit Suite – Edit Fest London
Documentary Editor's at Edit Fest New York