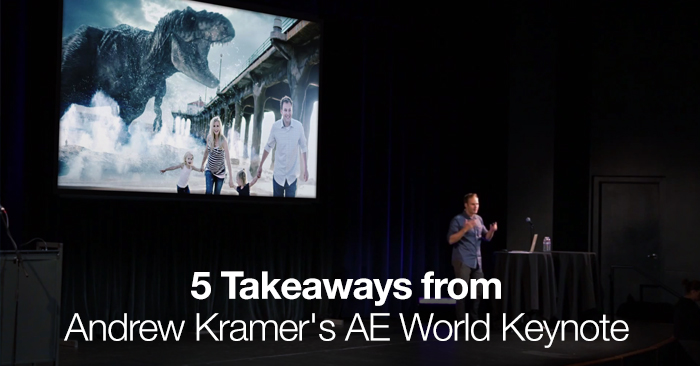 5 Takeaways from Andrew Kramer's AE World Keynote
VideoCopilot's Andrew Kramer recently took to the stage at the After Effects World Conference to share his advice for building a creative career.
The rise of Andrew Kramer of VideoCopilot.net is an inspiring tale – from helpful internet tutorial creator, to After Effects trainer and bespoke plugins producer, to feature film visual effects specialist. Andrew was invited to present this year's keynote address at the After Effects World Conference and he delivered a hilarious and informative talk breaking down his insights on how to build a career as a creative artist. The keynote was focused on motion graphic and visual effects creative work, but the lessons apply to many other creative spheres.
1. Define priorities
Andrew made a really great point at the start of his talk, which was that we need to be aware of, and focus on the things that we want to prioritize in life. In the busyness of life our real priorities can slip away and the hindsight revelation for Andrew was that he was focusing on his work more than his family. Many of us we want to be successful at any cost, but if we don't take the time to figure out what really matters in life we could lose it along the way.
2. Cut out the junk
A lot of Andrew's talk has the same point being reinforced in several ways. If you want to get anything good done you're going to have to cut out the distractions, games and time wasting.
3. Learn by doing
With so much knowledge freely available online we can often mistake watching a tutorial for acquiring new experience. Only through trying, making mistakes and solving problems for yourself will you truly acquire experience, knowledge and new abilities. As Andrew kept saying – just get out there and make something.
4. Take risks to stand out
Andrew's suggestion would be to spend the time and creative energy to make 25 seconds of really good original content, than to try to recreate a generic showreel demonstrating your core abilities of all the usual things. He pointed to Peter Quinn's spoof motion graphics showreel as a good example of something clever and a little risky that get's people's attention.
5. Who knows where you could end up!
Be passionate and committed to what you love and you could end up working for JJ Abrams, running a thriving business and growing a family too.